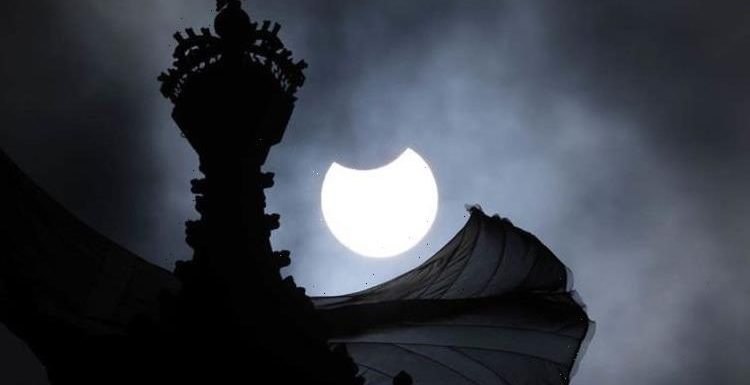 NASA shows the path of the 2021 annular solar eclipse
When you subscribe we will use the information you provide to send you these newsletters. Sometimes they'll include recommendations for other related newsletters or services we offer. Our Privacy Notice explains more about how we use your data, and your rights. You can unsubscribe at any time.
This solar eclipse is what's known as an annular eclipse, which sees the Moon move across the face of the Sun, leaving a thin sliver of light shining as a glowing ring of fire in the sky. The best viewing spot would be in the Arctic, but some lucky viewers were treated to spectacular scenes further south, too.
Apart from the Arctic, parts of the eastern United States and northern Alaska, along with much of Canada, Greenland, and parts of Europe and Asia witnessed the eclipse
In the UK, the most favourable place to watch was in Scotland.
In places like Lerwick in the Shetland Islands or Stornoway on the Isle of Lewis, about 40 percent of the Sun was eclipsed
However, even as far south as London would have seen something if the clouds parted, with 20 percent of the Sun covered.
The place which enjoys the greatest duration eclipse – at almost four minutes in length – is in the middle of the Nares Strait, the narrow channel that divides the Canadian archipelago from Greenland.
A total of 90 percent of the Sun's disc was blocked out here.
The so-called "path of annularity" – the track across the Earth's surface where the Moon sits entirely within the Sun's disc to give the greatest spectacle – began at sunrise in Ontario, Canada.
The spectacle then swept across the top of the globe, including over the North Pole, to eventually reach Russia's Far East.
Source: Read Full Article