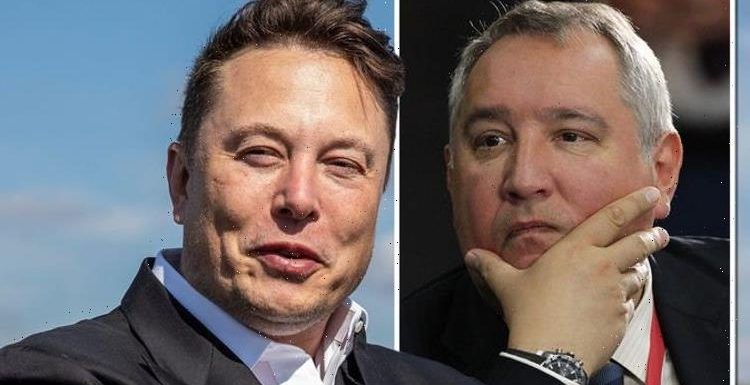 Elon Musk evaluates the chances of human civilisation on Mars
We use your sign-up to provide content in ways you've consented to and to improve our understanding of you. This may include adverts from us and 3rd parties based on our understanding. You can unsubscribe at any time. More info
Elon Musk has long been a vocal supporter of reaching out for the stars and is presently building spacecraft that could land the first human colonists on Mars. The head of Russia's state-run space agency, Roscosmos, has now suggested these plans align with his own and has invited the South African billionaire to his home to have a chat. Dmitry Rogozin extended the unusual invitation to Mr Musk this week, hoping Russia's wealthy oligarchs would be paying attention.
Speaking to CNN, he said: "Our millionaires prefer to invest more in yachts rather than spaceships.
"But maybe kids of current Russian millionaires will be much more wise creatures."
He added: "Mr Elon Musk realizes many of the ideas and thoughts that we wanted to realize, but did not get to because, after the breakup of the Soviet Union, our space programme halted for some time.
"We respect him as an organizer of the space industry and as an inventor, who is not afraid to take risk."
Mr Rogozin reached out to the SpaceX and Tesla CEO after attempting to grab his attention on Twitter last month.
Earlier in August, the Roscosmos chief tweeted a sinister message urging Mr Musk to visit Russia's chief launch site in Kazakhstan.
He has now said he wants to discuss, among other things, how SpaceX and Russia "can use space to preserve life on Earth".
And the invitation appears to have worked.
Just a few hours after sharing the candid CNN interview to his public Twitter feed, Mr Musk replied: "Thanks! What is your favourite tea?"
Assuming Mr Musk picks up on the invitation and flies to Russia, chances are the two rocket experts will discuss the prospects of life ending on Earth.
Mr Musk has said in the past Earth is a ticking time bomb and civilisation is at risk of dying with a bang or a whimper.
On the one hand, he fears a global war, rogue asteroid or other equally cataclysmic threat could strike the planet without due notice.
On the other hand, he thinks technological and cultural stagnation could lead to the collapse of civilisation.
Consequently, Mr Musk believes the key to ensuring the survival of the human race is to spread human colonies far and wide across the solar system.
Earlier this year he told podcast host Joe Rogan: "Civilisation here on Earth could end with a bang or with a whimper
Mr Rogozin's invitation has taken on a warm tone, with the space tzar inviting Mr Musk "to be a guest of my family" and to discuss matters relating to "exploring the universe, extraterrestrial life, and how we can use space to preserve life on Earth."
He even went on to say he had already put the kettle on.
But some of Mr Musk's fans have expressed concern about Mr Rogozin's true intentions, warning the SpaceX chief not to go.
One Twitter user said: "I am truly sorry, way too much shady stuff goes down in Mother Russia these days, and I would not trust being served anything by the competition – especially TEA!"
A second person said: "He mustn't go. He will be abducted or poisoned.
"These guys want our Elon gone, he's threatening their existence."
And a third person said: "Elon, please, only your own tea from your own mug!
"Don't trust the Russian authorities. They hate energetic and talented people who are not eating out of their hands."
Source: Read Full Article