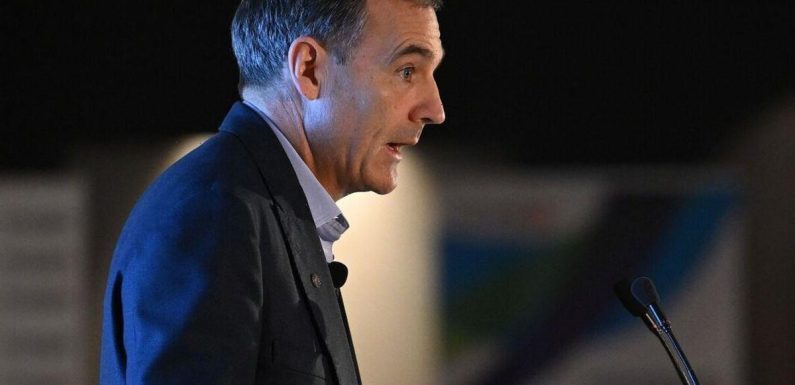 Dan Wootton criticises plans for Net Zero on GB News
We use your sign-up to provide content in ways you've consented to and to improve our understanding of you. This may include adverts from us and 3rd parties based on our understanding. You can unsubscribe at any time. More info
The head of an oil and gas giant has warned countries against being hasty with rolling out net zero measures, arguing that it could trigger another energy crisis. Bernard Looney, chief executive of BP urged a "cautious" approach for countries to transition away from fossil fuels like oil and gas into renewable forms of energy. The head of oil supermajor, which raked in a staggering $27.7billion (£22.9billion) in profits in 2022 off the back of soaring oil and gas prices, warned that a quick transition to net zero could mean supplies of fossil fuels like gas would fall rapidly, leading to another price surge.
Over the past year, households across the UK have been gripped by the worst effects of one such fossil-fuel-driven price surge, as Russia's invasion of Ukraine sent wholesale natural gas prices skyrocketing.
This unprecedented energy crisis- which caused families to pay £2,500 in gas and electricity bills- has led experts to call for an increased push towards renewable energy generation.
Aside from helping the UK reach its legally binding net zero commitments, renewable energy has also been hailed as a solution to boost the UK's energy security, while also slashing bills by reducing the country's vulnerability to volatile gas markets.
However, Mr Looney, after raking in record profits on the back of soaring gas prices, does not think so, arguing that the supply and demand for fossil fuels would need to fall at the same pace in order to lessen the risk of "economic volatility".
Last month, Mr Looney announced that he plans to cut back on renewable energy projects and stick with oil and gas investments, adding that the company will dial back its targets to cut fossil fuel production by 40 percent in 2030 to just 25 percent.
The fossil fuel executive is reportedly concerned about the lower returns from its investments in renewables such as wind and solar, which it launched in a bid to rebrand its business as a green energy champion.
Speaking at the International Energy Week conference in London on Tuesday, Mr Looney said the shift to net zero emissions was a "massive opportunity".
He added: "I'm an optimist. That does not, however, mean that we don't need to be cautious. As the events of last year demonstrated, the sudden loss of even a small part of the world's oil and gas can have severe economic and social costs.
"Reducing supply without also reducing demand inevitably leads to price spikes – price spikes, leads economic volatility. And there's a risk that volatility will undermine popular support for the transition, an outcome which nobody wants.
"We avoid that outcome by investing in today's energy system, as well as investing in the transition. And, not or. We have a way to go, but there are a growing number of reasons, I think for why we tend and should be optimistic."
After initially pitching BP as a green champion, Mr Looney is now looking to narrow the company's focus and persuade shareholders that it is committed to maximising profits.
The oil and gas firm has enjoyed tremendous profits in 2022, announcing last month that it had earned profits of $27.7billion (£22.9billion), a major leap from the $12.8billion earned the year before.
DON'T MISS:
Russian oligarch's Achilles' heels exposed by network science [REVEAL]
Brits set for 'cheapest energy bills in Europe' as new plan unveiled [REPORT]
Outrage as prepayment meter installed despite energy bills being paid [INSIGHT]
BP said that in just the last quarter of 2022, the company made £4.8billion, pushing their annual profits to a record £22.9billion for the year and a 116 percentage jump over 2021 profits.
According to the NGO Global Witness, BP's record profits from today could pay this year's energy bills for a full third of all UK households.
While Russia's invasion of Ukraine resulted in record profits for energy-producing companies like Shell and BP, households have been grappling with soaring energy costs.
Since October this year, households across the UK have been paying an average £2,500 per year on their energy bills, which like BP's profits, is almost twice the figure it was a year ago.
Source: Read Full Article