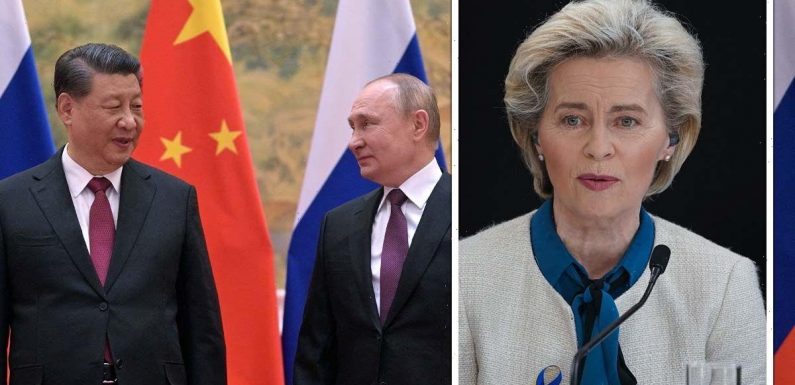 Russian oil ban not enough to stop them funding war says expert
We use your sign-up to provide content in ways you've consented to and to improve our understanding of you. This may include adverts from us and 3rd parties based on our understanding. You can unsubscribe at any time. More info
The bloc is gearing up to issue a sixth round of sanctions against Moscow, as Russian President Vladimir Putin's invasion of Ukraine heads into its third month of conflict. Last week, EU Commission chief Ursula von der Leyen announced plans to completely ban all Russian oil from Europe, a move that could cripple Putin's war efforts. These embargoes are not finalised, however, as EU leaders meet to hammer out the details of the sanctions, with several EU countries like Hungary opposed to an outright ban on oil.
Many EU countries are heavily dependent on Russian oil and gas imports, which means that a ban on imports of Russian energy could lead to severe shortages and blackouts.
Aside from debating a ban on oil, EU leaders are also furiously fighting over whether to ban EU vessels from transporting Russian oil.
The bloc is concerned that countries like Turkey and China could fill the void left by an EU ban, and transport shipments of oil.
According to POLITICO: "The aim is to make sure the measures are effectively targeted against Russia and are watertight so that countries such as China or Turkey do not take advantage of a change in EU rules."
China, a key ally of Russia, has been increasingly buying supplies of Russian oil and natural gas as EU countries sever ties with Putin.
The two countries have been looking to increase their gas trade exponentially with the development of three gas pipelines that will flow from Russia to China.
A recent report also found that as the price of Russian oil plummeted following EU sanctions, Chinese independent refiners have been discreetly purchasing oil from Moscow at steep discounts.
One official at a Shandong-based independent refinery said that since the start of the war, the company had not publicly reported its deals with Russia in order to avoid scrutiny and sanctions from the US.
Meanwhile, as European refiners avoid buying Russian oil for fear of sanctions, Turkish companies have picked up some of the excess oil.
Turkey is heavily dependent on Russian oil and gas, having imported 15.98 billion cubic metres of gas from Russia through the Blue Stream pipeline and a further 10.9 billion cubic metres through the TurkStream pipeline in 2021.
In March, Turkish Deputy Energy and Natural Resources Minister Alparslan Bayraktar announced that the country had no plan to stop buying Russian energy.
DON'T MISS:
Ukraine obliterates Russian troops by dropping grenades from drone [REVEAL]
Archaeologists stunned by engineering discovery in Petra [REPORT]
How the UK, US and their allies could respond to a nuclear attack [INSIGHT]
He said: "The world needs more oil.
"It needs to come from somewhere, from the United States, from Venezuela, from Iran, Saudi Arabia, or wherever we need it to be."
Describing Russia as "old, reliable suppliers", he noted that the country could not easily replace its Russian energy supply, relying on Moscow for 45 percent of its natural gas demand, 17 percent of oil and 40 percent of its gasoline.
Source: Read Full Article