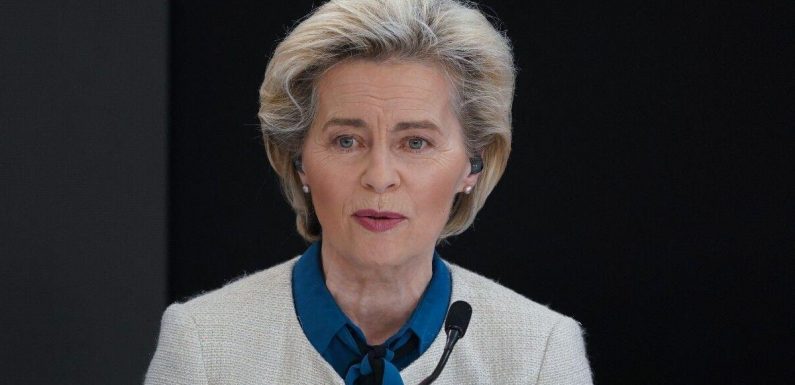 Experts have claimed that trapping vast amounts of wasted excess heat in Europe could help power the entire region and provide a vital solution to the energy crisis. As seen over the last year, Europe's reliance on gas left millions of billpayers feeling the impacts of the continent's attachment to the volatile global fossil fuel market after the war in Ukraine sent prices soaring.
Normally, energy experts and policy-makers point to renewable energy sources as a means of ditching this reliance on dirty and expensive fossil fuel imports to address the climate issue and slash bills. However, there is another little-spoken-of method that can help.
It lies in much of the excess heat released into the air from Europe's supermarkets, transport networks, commercial buildings and more. Normally, this valuable heat goes to waste.
But if countries took advantage of available heat recovery technologies like heat pumps, more efficient effective air conditioners and manufacturing machinery, they could reuse this heat for power.
Toby Morgan, from the Climate Group, told The Guardian: "The global energy crisis is a wakeup call to stop wasting energy.
"Now, more than ever, we need to make better use of the energy we already produce, we simply can't afford to let it literally escape out the window.
Energy efficiency improvements, like capturing and recycling excess heat, are absolutely critical to lower fossil fuel demand and lower bills."
It comes after a report by Danish engineering firm Danfoss estimated that across the EU, the amount of excess heat was almost equal to the bloc's total energy demand for heat and hot water.
Danfoss' CEO Kim Fausing said in an interview: "It's not energy we need to produce; it's energy we need to reuse. It can be done with technology we have on the shelf already today."
Prof Brian Vad Mathiesen from Aalborg University, who led the research, said that "the amount of cities, regions and countries in Europe which waste heat while spending billions on natural gas or electric heating is mind-blowing".
However, he told The Guardian that there is "huge, unharnessed potential" to harness the excess heat coming from heavy industries like chemical manufacturing, steel and cement production.
But to unlock this potential, which can be done with existing technologies, steps need to be taken quickly.
Catherine Bale, an associate professor at the University of Leeds, said: "We need to make decisions now on what will still be an appropriate technology in 50 years. The transition from fossil-fuel systems to low-carbon heat systems is critical."
DON'T MISS
Worrying satellite image from space shows the true extent of droughts [REPORT]
HIV breakthrough as man cured of virus is third in the world [REVEAL]
Face of 'lonely' Stone Age boy brought back to life after 8,300 years [INSIGHT]
But in the UK, there is an older housing stock which means homes are especially prone to losing excess heat. Britain is also one of the most gas-reliant European nations and remains far behind Europe in its heat pump rollout.
According to The Greenage, an energy-saving advice firm, roughly 25 percent of the heat from your boiler escapes through the roof. Meanwhile, up to 35 percent of heat can escape through gaps in windows, doors and walls.
This is more likely if you have a certain type of insulation that has "degraded effectiveness and should be upgraded", which can happen after many years.
You can check whether you need extra insulation by selecting an electrical outlet on any exterior wall of your home. They sat that all you need to do is simply turn off the outlet's power and take the cover off the outlet, which will let see how much insulation there is and in some cases, what type.
But the UK Government has also previously been called out for not rolling out energy efficiency schemes early enough, which could have made insulation more affordable and kept millions more homes warm over the energy crisis.
However, it did announce its ECO+ scheme back in November, setting aside an extra £1billion to offer grants for insulation installations.
Source: Read Full Article