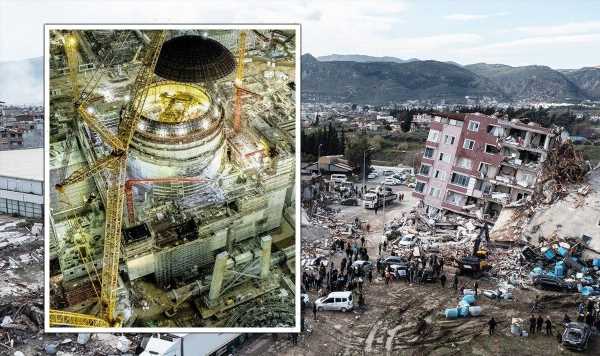 Earthquake death toll in Turkey and Syria rises to over 4000
We use your sign-up to provide content in ways you've consented to and to improve our understanding of you. This may include adverts from us and 3rd parties based on our understanding. You can unsubscribe at any time. More info
Dr Paul Dorfman, Associate Fellow SPRU University of Sussex noted it there was concern over the Russian site.
He said: "First of all, we still have a deal with Turkey and Russia, and that deal is still going ahead despite the war in Ukraine. Basically, this reactor is being largely built and will be operated by Russians, so it's really Russian-dominated.
"So what we know so far is that the plant has not been damaged by the earthquake. The earthquake was felt at this plant, but so far nothing bad has happened. This is a nuclear plant under construction, so its not loaded, it doesn't have a high-level radioactive material.
"I'm not reassured that Russian news agency TASS or Rosatom say that everything is secure. I feel unsure that they're entirely honest, we've seen misreporting of the Ukraine war by TASS, I believe that Rosatom should be sanctioned and it shouldn't be allowed to function outside Russia because of the war.
"Most importantly, it seems complete madness to build a new nuclear power station in an earthquake zone that's 16 miles away from an earthquake fault line."
Turkey's Akkuyu nuclear power plant, which is majority-owned by Russia's Rosatom State Nuclear Energy Corporation, lies 16 miles from the Ecemis fault line where the Eurasian and African tectonic plates meet.
Even though the earthquake was felt at this site, it is currently under construction, and as such does not have any radioactive material. In a statement, Rosatom noted that no damage was found at the reactor.
A spokesperson for the power plant told the Russian news agency TASS: "Akkuyu Nukleer specialists conducted a prompt, operational inspection of all buildings, structures, tower cranes, scaffolding and other structures under construction for deviations and damage. No damage was found as a result of the inspection. Construction and installation work continues."
Dr Dorfman noted that since Akkuyu nuclear reactor is located by the Mediterranean, an earthquake could have "catastrophic consequences" for Europe, the Middle East and for the Mediterranean.
He said: "This is a Russian-built and Russian operated site, under the current conditions of Russia's war in Ukraine, is deeply worrying."
Concerns about the Akkuyu plant were first raised in 2011, following the Fukushima nuclear disaster, which was the caused by the 2011 Tōhoku earthquake and tsunami, one of the most powerful earthquakes ever recorded in Japan.
The earthquake and the tsunami resulted in the most severe nuclear accident since the Chernobyl disaster in 1986, and was classified as level seven on the International Nuclear Event Scale (INES).
DON'T MISS:
Inside Britishvolt's collapse as UK's first gigafactory plans fail [INSIGHT]
Shell defends oil rig that could make it 'billions more in profit' [REVEAL]
Long-lost ship bearing £16.5m in gold coins may be salvaged [REPORT]
In 2011, Tolga Yarman, a professor in the nuclear engineering department of Istanbul's Okan University, opposed the site saying "I'm not against nuclear power. I'm simply against ignorant nuclear planning."
Given that he was one of the original nuclear engineers who signed off on the Akkuyu site license in 1976, Prof Yarman explained his reversal saying "The conditions of the area — as we know them — are completely different now, and new criteria have evolved."
When the license for the plant was first issued in 1976, the fault line was believed to be inactive. However in the decades since then, studies have shown that the site is active.
According to Dr Dorfman, this led to the Turkey Chamber of Electrical Engineers have condemned the building of this plant days after the Fukushima disaster "basically because the basic issue is that its 16 miles from the fault line where the Eurasian and African tectonic plates meet. So its a nuclear reactor on an earthquake fault line."
Source: Read Full Article