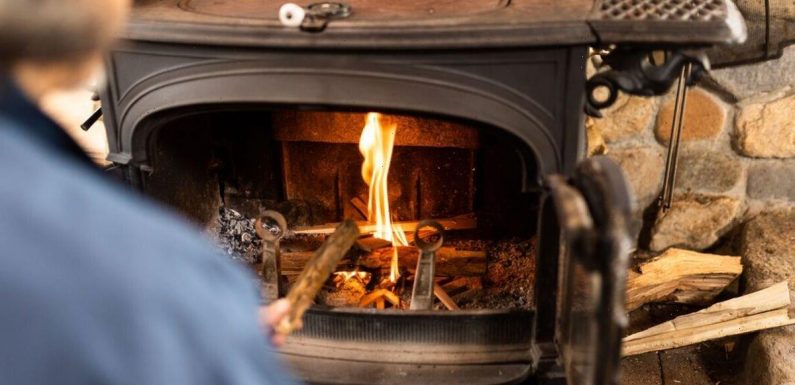 Dan Wootton criticises plans for Net Zero on GB News
We use your sign-up to provide content in ways you've consented to and to improve our understanding of you. This may include adverts from us and 3rd parties based on our understanding. You can unsubscribe at any time. More info
Lance Forman, a former MEP for London, has slammed the UK Government for its "idiotic policies" and hypocrisy over net zero. The Brexit-backing businessman criticised ministers over recent reports of a crackdown on wood-burning stoves that fail to meet the UK emissions standards. Households now found in violation of these air pollution rules could face "on the spot" fines of £300. The Government has ordered local councils to use powers from a law passed in 2021 to issue civil penalties for old-fashioned wood-burning stoves that do not meet the UK's standards for emissions.
Mr Forman, who is also an author and businessman, tweeted: "On the spot fine for woodburners. Let's hope they don't start fining fish smokers next!
"Another idiotic policy from the Tories. Drax power station burns wood pellets shipped across the Atlantic. Is there no end to the hypocrisy and derangement when it comes to net zero."
As part of the new enforcement drive, the worst offenders could face criminal prosecutions and fines of up to £2,500 a day, the Times reports.
With energy bills currently at eye-watering levels, over half a million people use wood-burning stoves to heat their homes this winter. As thousands look to install a log burner in their home, industry experts are reporting fears of a potential shortage.
Demand for log burners has shot up by nearly 40 percent, jumping to 35,000 orders between April to June, compared to 25,000 from the same period last year.
However, wood-burning stoves have faced increased scrutiny over the past few years, after being linked to nearly 50 percent of people's exposure to cancer-causing chemicals found in air pollution particles in urban areas.
As more people have adopted the log burner lifestyle over the past decade, pollution caused by the heating system by more than a third since 2010.
While Government regulations currently limit how much smoke and emissions a wood-burning stove can release, these rules are rarely enforced by local authorities.
Until recently, local authorities responsible for enforcing the rules have relied on court action for noncompliance. This has led to councils in England only issuing 17 fines over the past six years, despite receiving over 18,000 complaints.
Now the Government has ordered councils to use recently gained powers from the 2021 Environment Act to issue civil penalties ranging from £175 to £300, with repeat offenders facing criminal prosecution and hefty fines.
This crackdown comes after the Government launched its new environmental plan earlier this week, which promises to tighten how much new stoves can emit in smoke control areas like major cities. This limit will soon be nearly half to 3g of smoke per hour.
Are wood-burning stoves being phased out?
The new wood-burning stove laws came into force in an effort to curb the nation's emissions, with the appliances accounting for 38 percent of particulate matter air pollution, a Government report says.
DON'T MISS:
Energy boss's 7 word defence as prepayment meters blasted [REVEAL]
Three point plan to get Russia to ditch its nukes unveiled [ANALYSIS]
Red Cross warns that as world 'dangerously unprepared' for pandemics [REPORT]
But the buying and installation of new wood-burning stoves is not banned, as many had feared, but there is a production ban on older-style stoves.
According to the HomeOwners Alliance, wood-burning stoves and multi-fuel stoves and fireplaces now manufactured have to meet strict new guidelines known as Ecodesign. The Ecodesign mark means the stove has been tested by an approved laboratory, meeting all requirements on air quality and particulates.
What you can use as fuel
Sales of bagged house coal and wet wood in units under two cubic meters are illegal. Government regulations state: "Burning at home, particularly with traditional house coal or wet wood, is a major source of the pollutant PM2.5 – which has been identified by the World Health Organisation as the most serious air pollutant for human health."
Wood that is sold for the purpose of burning in stoves needs to be RTG (Ready To Burn), meaning it has been tested and has a moisture content under 20 percent. DEFRA appointed HETAS and Woodsure to run the RTB fuel certification scheme in order to achieve cleaner burning of wood.
Source: Read Full Article