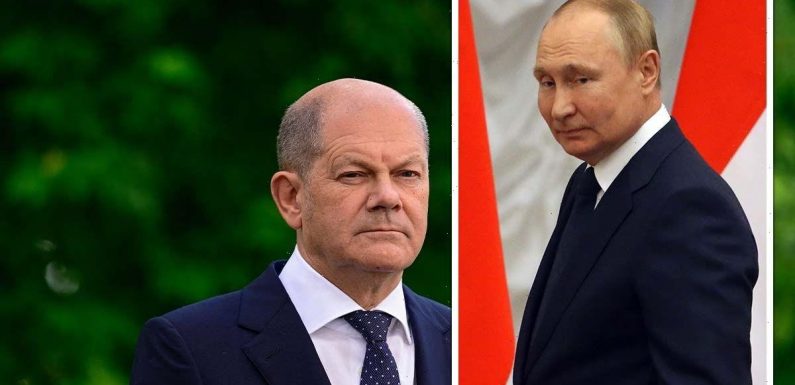 Greg Hands makes Putin jibe at SNP over oil and gas
We use your sign-up to provide content in ways you've consented to and to improve our understanding of you. This may include adverts from us and 3rd parties based on our understanding. You can unsubscribe at any time. More info
Russian President Vladimir Putin has sparked panic in Berlin, which gets a third of its gas from Russia, over a looming supply squeeze. Gazprom, the Kremlin-controlled gas giant, already showed last month that it is willing to slash supply volumes transiting to the country after it sent deliveries from the Nord Stream 1 pipeline plummeting.
While the company blamed this on a delayed repair to pipeline infrastructure (because of western sanctions), German Vice-Chancellor Robert Habeck said this was a "political decision" to drive up prices.
And it forced Germany to enter the second stage of a gas alert system that would place its market on a war footing.
The final phase would result in gas rationing, a real fear as Russia looks poised to slash more supplies.
Bavarian Prime Minister Markus Söder has warned that if this happens, the German Government will not be prepared.
This is despite the EU's plans to phase out Russian gas by 2027 under its REPowerEU energy strategy.
Mr Söder warned in an interview with German TV channel Welt: "There is the threat of a huge energy emergency, a kind of gas triage, which will affect millions of jobs."
A gas triage is a scenario where there would not be enough gas to supply all households and industries.
This means some sections of industry would have to limit production.
Mr Söder added: "There is the risk of an ice-cold winter."
He also took aim at Berlin for not securing alternatives to Russian gas fast enough and warned Putin could cut Germany's supplies "bit by bit".
Mr Söder made note of other countries that are scrambling to wean themselves off Russian gas and swerve the impacts of a supply cut.
Italy, for instance, gets 40 percent of its gas from Russia but has struck deals with Qatar to account for the potential loss of Russian supplies.
The country has also had its supplies cut after Gazprom claimed the repaired gas infrastructure was still in repair.
Slovakia and France also reported that their Russian gas supplies had plummeted.
The supply squeeze was not the first time lower volumes of Russian gas were getting sent to the bloc, and Moscow has warned that it may not be the last.
DON'T MISS
US tests new MICROWAVE weapon that can wipe out drones [REVEAL]
Putin launches attack on Norway after key supplies blocked [REPORT]
'Global response needed' as contagious illness evades antibiotics [INSIGHT]
That's because Putin set a March 31 deadline for countries to pay for gas in rubles or else face a supply cut.
But the EU has said that caving to this request undermines its sanctions slapped on Putin for invading Ukraine. Now, further cuts are expected.
The Netherlands, Denmark, Poland, Finland and Bulgaria have all reported supply cuts as a direct result of refusing to make payments for Russian gas in rubles.
But back in May, both Germany and Italy made exceptions for companies to open accounts with Gazprombank to pay for Russian gas in rubles, and thus give in to Putin's demand. It came after discussions with the EU, which decided German and Italian gas importers would still be able to comply with the EU sanctions.
The bloc issued two sets of written guidance on methods to purchase Russian gas while still adhering to its sanction packages.
Source: Read Full Article