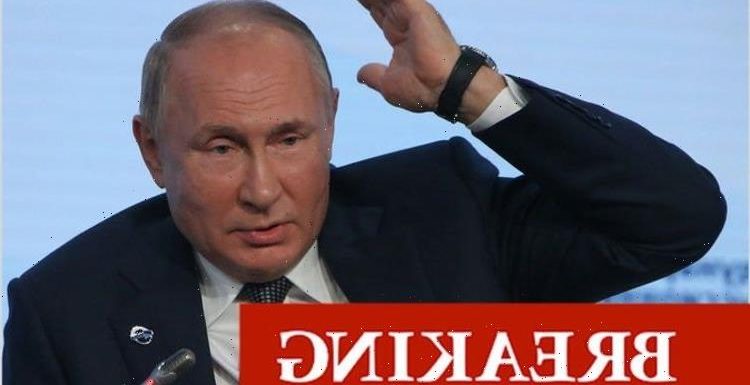 Russia: Sir Gerald Howarth warns of 'miscalculation' risk
We use your sign-up to provide content in ways you've consented to and to improve our understanding of you. This may include adverts from us and 3rd parties based on our understanding. You can unsubscribe at any time. More info
Russia's new Nord Stream 2 pipeline was scheduled to transport gas from Russia into Germany through bypassing Poland and Ukraine.
Mr Putin was waiting for months since the pipeline was completed in September, and has been accused of using the pipeline as a geopolitical tool after decreasing gas supplies from other pipelines to speed up the certification process.
The move to order Gazprom to decrease gas flow from his vast network of other pipelines had caused wholesale gas prices across Europe to skyrocket to record highs and has left Europe in a gas crisis.
But instead of speeding up the approval, Germany has retaliated by suspending the procedure to certify Nord Stream 2.

After a rigorous examination of the documentation, the Bundesnetzagentur decided that it would only be possible to certify an operator of the Nord Stream 2 pipeline if that operator was organised in a legal form under German law.
Nord Stream 2 AG, based in Zug (Switzerland), has decided not to change its existing legal form but instead to found a subsidiary under German law to only govern the German part of the pipeline.
This means that the subsidiary will become the owner and operator of the German part of the pipeline.
The subsidiary then has to fulfil the requirements of an independent transmission operator that is set out in the German Energy Industry Act.
It appears the Gazprom's gas squeeze may have backfired then, as the intended purpose was likely to get the pipeline operating on their own terms.
This is a breaking story. More to follow.
Source: Read Full Article