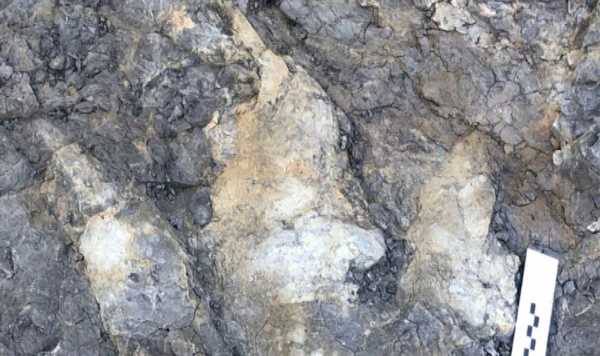 Paleontologists have analysed a giant, meat-eating, theropod dinosaur footprint found on the coastline near the village of Burniston, which lies in Yorkshire's Cleveland Basin. The 31.5-inch-long, 16-inch-wide fossil print was discovered on the underside of a slab of silty sandstone which had fallen onto the shore from the cliff face above. Rocks deposited in the bed from which it originated were formed in the Bathonian — a subdivision of the Middle Jurassic Period — which spanned from 168.3–166.1 million years ago.
The study of the footprint was undertaken by independent palaeontologist John Hudson of Scarborough and his colleagues.
The researchers explained: "Although dinosaur tracks from the Middle Jurassic of the Cleveland Basin are relatively common, large well-preserved theropod tracks are rare."
On the discovery, paper co-author and Scarborough-based archaeologist Marie Woods told Sci.News: "I couldn't believe what I was looking at — I had to do a double take!
"I have seen a few smaller prints when out with friends, but nothing like this. I can no longer say that 'archaeologists don't do dinosaurs'."
Paper co-author and palaeontologist Dr Mike Romano of the University of Sheffield said: "The east coast of Yorkshire is known as the Dinosaur Coast for very good reasons.
"A huge number of dinosaur tracks, ranging in the thousands, have been discovered. As a result, this stretch of coastline is considered one of the best places in the world for dinosaur footprints.
"Although first documents way back in 1907, it was not until the 1980s that finds were being reported on a regular basis — by amateurs as well as professional geologists."
To date, he noted, around 25 different types of footprint have been discovered.
Dealing with footprints and other types of trace fossils can be more tricky than working with so-called body fossils.
The reason is that different species can leave the same type of trace, while a single species can leave multiple types of traces — for example, footprints, burrows, resting marks, etc. Even the difference between walking and running can leave different footprints.
Accordingly, trace fossils are normally named according to their very own classification system, separate to that of biological species.
Although 25 types of dinosaur footprints have been found in the Cleveland Basin, this does not mean that the area once played host to 25 different species of dinosaur.
Nevertheless, Dr Romano said: "They do indicate a diverse ecosystem of animals including both carnivores and herbivores that roamed the Jurassic coastal plan and fluvial complex some 160–175 million years ago."
"The prints also allow us to interpret their behaviour. Thus, we have records of walking, running and swimming dinosaurs."
In fact, based on its features, the team believes that the Burniston Bay footprint may have been made by a dinosaur in the process of standing up from a squatted posture.
DON'T MISS:
Satellite images show unit from costly Russian offensive 'destroyed' [REPORT]
Rats living in the sewers of New York City are a reservoir for Covid [ANALYSIS]
Polymer coating could give electric vehicle batteries 'big boost' [INSIGHT]
Despite the inherent challenges, the team do have an idea of which species of dinosaur likely left the impression millions of years ago.
Mr Hudson said: "The type of footprint, combined with its age, suggests that it was made by a ferocious Megalosaurus-like dinosaur, with a possible hip height between two and three metres [around 7–10 feet]."
"This important discovery adds further evidence that meat-eating giants once roamed this area during the Jurassic."
The full findings of the study were published in the Proceedings of the Yorkshire Geological Society.
Source: Read Full Article