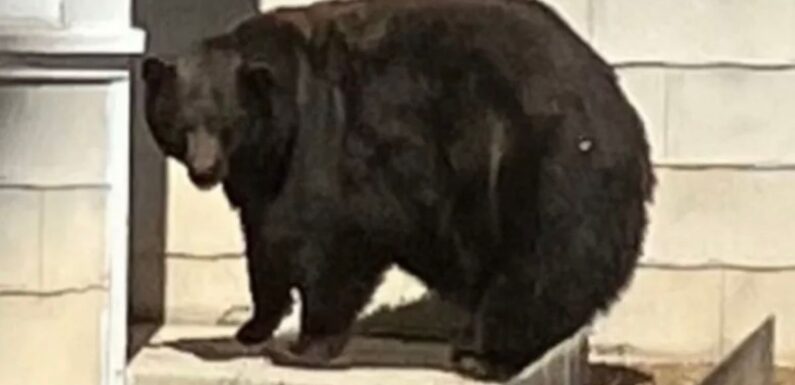 Authorities have finally captured a serial criminal who has been plaguing a neighbourhood for more than a year – and its a 500lb black bear.
DNA-matching confirmed the beast – thought to be the infamous "Hank the Tank" – has been responsible for at least 21 home break-ins around Lake Tahoe, California, since February last year.
The female bear was initially misgendered as male and is known officially by authorities as "bear 64F". She had been entering homes in search of grub.
READ MORE: Cats to be given leftover human Covid drugs as thousands killed by 'feline coronavirus'
The California Department of Fish and Wildlife (CDFW) said the bear was "safely immobilised" with a tranquiliser dart on Friday (August 4) and will now be rehomed at an animal sanctuary in Colorado.
She was found alongside her three cubs who are thought to have accompanied her on recent break-ins. One of the three was injured, possibly having been hit by a vehicle.
Authorities said the cubs will be rehomed away from their mother at a facility in California "in hopes they can discontinue the negative behaviours they learned from the sow and can be returned to the wild".
"All three cubs were given a health assessment in the field before transfer and will receive additional examination at the facility," the statement added. "The injured cub will be given a thorough veterinary evaluation."
Authorities had tried many methods to deter bear 64F from her crimes, including sirens and deactivated Tasers, but said she had "lost all fear of people" and was therefore "potentially dangerous".
Despite catching her, they may have more work on their hands as it is believed she wasn't the only one responsible for the break-ins.
CDFW trackers reckon two other bears were involved in the property rampages. Jordan Traverso, a spokeswoman for the department, told The New York Times: "I guess they all technically are 'Hank the Tank'."
Luckily, she added the "other Hanks" haven't presented any problems so far this year.
For the latest stories from across the globe from the Daily Star, sign up for our newsletter by clicking here – and check out the new WTF Wednesdays newsletter for everything brilliantly bizarre!
Source: Read Full Article