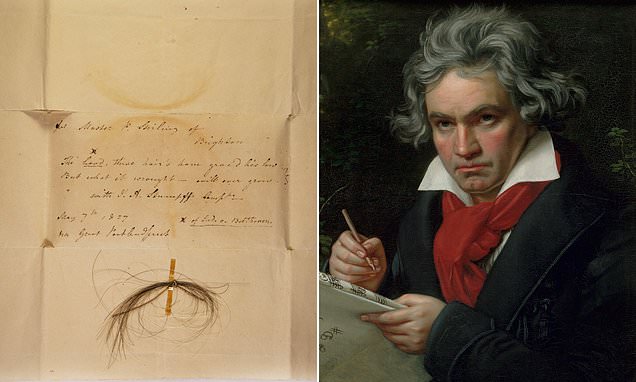 How Beethoven drank himself to DEATH: Composer had liver disease and Hepatitis B which were made worse by his heavy boozing, analysis of his hair reveals
Scientists have deciphered Beethoven's genome from locks of his hair
Study shows he was predisposed to liver disease and infected with Hepatitis B
Combined with his alcohol consumption, this may have contributed to his death
He was the definition of a tortured genius, battling deafness to compose symphonies he could not properly hear.
And unlucky Beethoven appears to have also had hepatitis B and a genetic risk of liver disease, which means his love of wine may not have been the sole cause of his death.
Geneticists have pieced together the medical history of Ludwig van Beethoven, who died in 1827, using clues from five verified locks of his hair.
The composer enjoyed a drink so much that his reported last words, after receiving a gift of Rhineland wine on his deathbed, were: 'Too bad! Too late!'
But the new findings, that he was infected with the liver-damaging virus Hepatitis B, and had a genetic predisposition to liver problems, suggest his death from probable cirrhosis of the liver might not have been only due to alcoholism.
German composer and pianist Ludwig van Beethoven was born in 1770 in Bonn and died in Vienna in 1827 aged 56
Scientists have analysed five locks of what is believed to be Beethoven's hair to sequence the genome of the prodigious composer
Beethoven WASN'T the most innovative composer in history because Rachmaninov's music was more original, researchers reveal – READ MORE 
A computer analysis looking at more than 19 composers has found the one whose work was most unlike his predecessors was Rachmaninov (pictured)
A popular theory that Beethoven became deaf because of lead, used to sweeten wine in the 19th century, may have been overturned by the new study.
That theory was largely based on a lock of hair thought to belong to the composer, which the new analysis now suggests came from a woman of Jewish Ashkenazi heritage.
And there is a new exciting theory about the composer, as the genetic analysis found an illegitimate child within his family tree.
This finding, from modern relatives of Beethoven whose genes were sequenced, is imprecise, and could have happened as late as seven generations after Beethoven (SUBS – pls keep).
But it is thrillingly possible that the composer himself was the product of an illicit affair, and only half-brother to his sibling Kaspar, although far more research would be needed to prove this (SUBS – pls keep last part).
In 1802, Beethoven asked his doctor to describe his illness and to make this record public.
The great man's health and cause of death have been debated ever since, but previously without the benefit of genetic research.
Tristan Begg, lead author of the study from the University of Cambridge, said: 'Most people who do genetic testing for fun, including myself, will find that there is nothing wrong with them, they are related to everyone they thought they were, and the results are not surprising.
'But in this study we had fascinating results in every branch we looked at, from disease risk to the family tree.
'After eight years, that was very exciting.'
The Moscheles Lock, authenticated by the study, with inscription by former owner Ignaz Moscheles
The eight-year study, published in the journal Current Biology, analysed eight hair samples attributed to Beethoven.
Of these, five were verified as coming from the same person – almost certainly the composer.
Researchers, who examined 18 feet (555cm) of Beethoven's hair in total, found no genetic cause for his famous deafness, which began with tinnitus and loss of high frequencies in his twenties and led to him being largely deaf by 1818.
Neither was there a clear genetic cause for the 'wretched' abdominal pains and bouts of diarrhoea which plagued the genius from his early twenties, although coeliac disease and lactose intolerance can be ruled out and the composer had some genetic protection against IBS.
In the summer of 1821, Beethoven had the first of at least two attacks of jaundice, a symptom of liver disease.
Cirrhosis has long been viewed as the most likely cause of his death at age 56.
Researchers discovered a number of genetic risk factors for liver disease and evidence of a hepatitis B infection in the months before the composer's final illness.
Mr Begg said: 'We hope that by making Beethoven's genome publicly available for researchers, and perhaps adding further authenticated locks to the initial chronological series, remaining questions about his health and genealogy can someday be answered.'
Ludwig van Beethoven: The defining figure in the history of Western music
Ludwig van Beethoven (1770-1827) was a German composer and pianist, who is arguably the defining figure in the history of Western music
Ludwig van Beethoven (1770-1827) was a German composer and pianist, who is arguably the defining figure in the history of Western music.
Ludwig Van Beethoven was born in December 1770, but no-one is completely sure on which date. He was baptized on the 17th.
The earliest recorded piece that Beethoven composed is a set of nine piano variations, composed in 1782.
Beethoven moved to Vienna in 1792, where he met influential composers like Haydn and began to compose in earnest.
By 1796, he had begun to suffer from tinnitus and was losing his hearing.
Beethoven composed his Piano Sonata No. 14 ('Moonlight') in 1802.
The Third Symphony, known as the 'Eroica', was completed in 1804. 
It went on to redefine the symphony as a genre.
The opening motif to the Fifth Symphony from 1808 is one of the most famous musical excerpts in history.
The 'middle period' of Beethoven's career also saw him compose piano works like the Waldstein and Apassionata sonatas, as well as his only opera, Fidelio, which went through countless rewrites and revisions.
Beethoven's Ninth Symphony, the 'Choral' from 1824, is another work of his that has remained infinitely popular. 
It was the first time that a composer had used choral voices in a major symphony.
Ill health and increasing deafness caused a drop in productivity at the end of Beethoven's life, but he still managed to produce important works like his 'Late Quartets' in 1825, which were wildly inventive for the time.
Beethoven died in Vienna on the 26th March 1827 after a long illness that has variously been attributed to alcohol, hepatitis, cirrhosis and pneumonia.
Source: Classic FM 
Source: Read Full Article