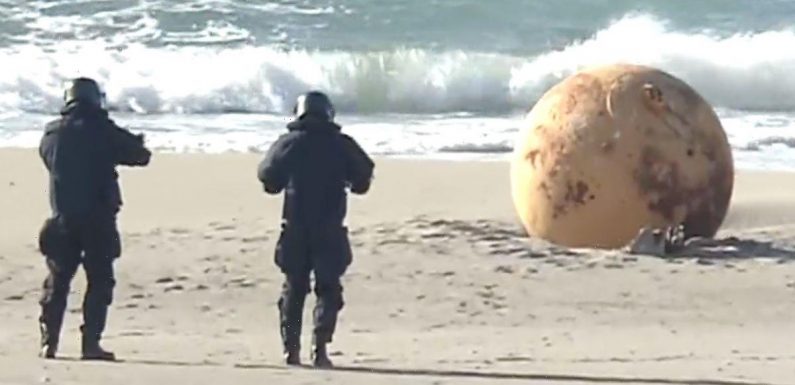 Bomb squad descended upon a beach after a mysterious huge metal sphere appeared out of nowhere.
The "suspicious" ball, which stands at 1.5 meters, was discovered by residents in Hamamatsu, a southern coastal city near Tokyo.
Japanese officials were left baffled by the discovery, having no idea what it could be.
READ MORE: Mystery remains as body of student who vanished 47 years ago found in canal
The object was reported by a woman who noticed it near the water's edge while on a walk with her husband.
She described the sphere as "a large round object was washed up on the beach", Asahi News reported.
Police confirmed the ball has a diameter of around 1.5 meters, and is believed to be made of iron and coated in rust.
As a safety precaution, authorities restricted access within 200-metres of the object of "unknown origin".
The stretch of the beach was closed off for most of the day while bomb squads got to work.
An X-ray determined the object was hollow and there was no danger of explosion.
Restrictions were lifted at around 4pm.
'Mystery door knocker made our lives living hell for 15 years – we just want it to end'
However, cops were still uncertain about what the particular object is, or what its purpose is.
The bizarre discovery prompted a wide range of speculation, with some users online linking it to the alleged 'spy' balloons which have been sighted across North America this month.
However, News.com.au reported that some believe the object closely resembles a mooring buoy as it has a protrusion that would allow it to be hooked onto something.
Japanese police say they will ask local officials responsible for coastal management to collect the ball.
READ NOW:
Missing student found after 'seeing himself in news' heads home for family Christmas
Student, 21, goes missing while hiding final clue in treasure hunt he spent years making
Body found in search for missing 20-year-old Bristol student Olisa Odukwe

Woman who claims she's Madeleine McCann shares baby pic as critics weigh in

Porn star breaks penis during 'intense' sex scene that 'turns todger black'
Source: Read Full Article