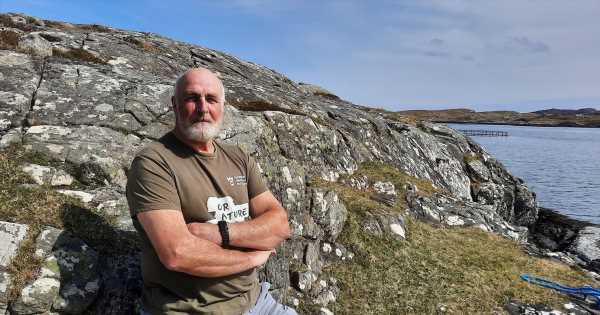 The 'loneliest job in the world' is up for grabs after a caretaker of three remote Scottish islands hangs up his tools.
Jonathan Grant, the long time occupant of the unique role out in the wild, has announced his retirement.
The 65-year-old has spent 13 years of his life living and working on the uninhabited islands of Mingulay, Pabbay, and Berneray in Barra, Inner Hebrides, Scotland.
READ MORE: 'UK's unhealthiest city' revealed and it's bad news for the Welsh – read our full list
He found himself in this unique position when he applied for a job with National Trust Scotland (NTS) back in 2010 and is responsible for looking after the three islands, south of Barra, which are part of the Bishop's Isles archipelago, approximately 12 miles from the nearest populated area.
Despite spending six months of the year on the deserted islands, Jonathan has become acclimatised to working and living on the land, and says that he has no regrets about taking up the unconventional role.
During the six winter months, the dad-of-three would return to his family home where he worked as a self-employed builder.
Now planning to retire in October when the season ends, Jonathan has expressed his intention to continue doing the same kind of work in the future.
Queen Elizabeth fired King Charles' nanny for overstepping mark with 'special pudding'
"After I retire I'll probably keep doing the same sort of thing," he said.
"We quite often have a seabird ranger on the tiny islands and there are a lot of visitors and campers.
"There's times when I'm on the island on my own, that's fine, it suits me.
While the job might be considered to isolated for some, Jonathan said he has a nice home and loving wife on Barra, and only find himself totally isolated for a couple of weeks per year.
"I haven't spent the past 13 years in a tent. I've got a nice home and a wife on Barra.
"I only camp for a couple of weeks every summer."
He moved to Barra after leaving school, wanting to avoid living in a city, and secured a job as a building contractor, which he has maintained as his main job.
He got into working as a ranger approximately 20 years ago, before he was offered the current job by NTS.
The islands were sold to NTS by the Barra Sheep-stock Islands in 2000.
Stunning views can be seen for miles around, with abundant wildlife and bountiful wildlife.
Jonathan described the plants, flowers and animals on the islands as unbelievable, with seabirds nesting on the cliffs, sandy beaches, seals, and basking sharks.
Despite loving his job, he made the difficult decision to retire due to his age, admitting it would be "unfair" to carry on.
He hopes a younger person can take over and experience the same unique opportunity he had.
To get more stories from the Daily Star delivered straight to your inbox sign up to one of our free newsletters here.
READ NEXT:
'German Madeleine McCann' probe as child sex doll found in paedophile's flat
Inferno rips through apartments in Brit holiday hotspot as people jump from balconies
Kate Middleton 'smashes' Meghan Markle as she's named most popular royal
Benidorm-mad Brit couple splash out £5k on themed wedding with sun-loungers
Landlord posts 'disgraceful' listing for room 'smaller than Harry Potter's cupboard'
Source: Read Full Article