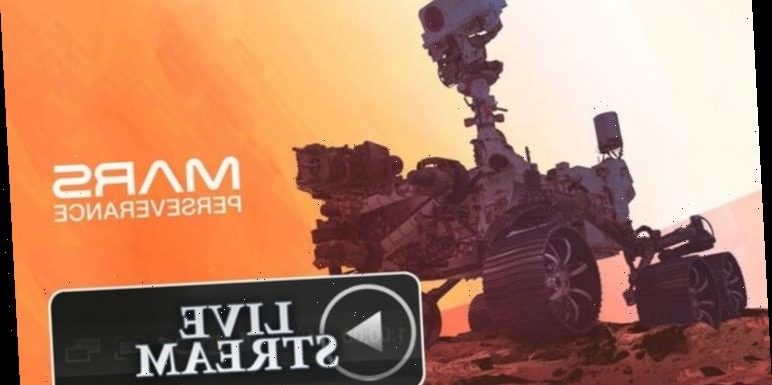 NASA's Perseverance rover: Experts discuss Mars landing
When you subscribe we will use the information you provide to send you these newsletters.Sometimes they'll include recommendations for other related newsletters or services we offer.Our Privacy Notice explains more about how we use your data, and your rights.You can unsubscribe at any time.
The Mars landing will go ahead today, nearly seven months after NASA's rover launched into space. Perseverance is the fifth robotic explorer NASA has sent to the Red Planet, so it might seem NASA has everything under tight control. But there is plenty of room for error and the rover's seven-minute landing sequence has been called the "seven minutes of terror".
Perseverance will dive into the Martian atmosphere at about 12,000mph, targetting a 28-mile wide crater known as Jezero, just north of the Martian equator.
If all goes according to plan, NASA will receive confirmation of the rover's touch down by 8.55pm GMT (3.55pm EST).
Perseverance will then begin its mission to explore Jezero for evidence of fossilised alien life.
Even more critically, the rover will collect and store promising rock samples NASA and partners will hope to retrieve and return to Earth in the 2030s.
Caroline Smith, head of Earth Sciences collections at the Natural History Museum, told Express.co.uk these will be the most important rocks collected since the Apollo Moon landings.
https://www.youtube.com/embed/gm0b_ijaYMQ
How to watch Perseverance land on Mars today:
The Mars landing will be broadcast across a wide range of platforms today, as well as some digital TV channels in the US.
But the good news is you can watch the action here on Express.co.uk, courtesy of NASA TV.
Simply tune in to the embedded video player above at 7.15pm GMT (2.15pm EST, 11am PST).
NASA TV is the US space agency's round-the-clock educational broadcasting.
The space agency said: "To reach the surface of the Red Planet, the rover has to survive the harrowing final phase known as Entry, Descent, and Landing.
"Only then can the rover – the biggest, heaviest, cleanest, and most sophisticated six-wheeled robot ever launched into space – search Jezero Crater for signs of ancient life and collect samples that will eventually be returned to Earth.
"Tune in to a live video feed of key landing activities and commentary from Mission Control at NASA's Jet Propulsion Laboratory."
NASA's broadcast will also be hosted on Twitter, Facebook, LinkedIn, Twitch and the NASA app.
NASA TV is also accessible by some cable and satellite providers in the US.
The US space agency recommends you contact your local cable or satellite provider to find out more.
DON'T MISS…
Mars rover landing UK time: What time will NASA's Perseverance land? [INSIGHT]
UFO hunter spots 'Tic-Tac' anomaly over New York in archive video [REPORT]
Mars expert 'quietly confident' Perseverance will dig up proof of life [INTERVIEW]
What time will Perseverance land on Mars?
NASA expects to receive confirmation of a safe touchdown by 8.55pm GMT (3.55pm EST, 12.55pm PST).
However, there is a considerable delay in communications between our planet and Mars.
Perseverance will, therefore, land about 11 minutes before NASA hears about it.
The delay also means the rover will have hopefully landed by the time NASA confirms Perseverance has entered the Martian atmosphere.
But hopes are high and despite only 50 percent of all missions to Mars succeeding, Perseverance is in good hands today.
Marc Etkind, the Associate Administrator for Communications at NASA, said: "If there's one thing we know, it's that landing on Mars is never easy.
"But as NASA's fifth Mars rover, Perseverance has an extraordinary pedigree and mission team."
Follow Express.co.uk today for the latest mission updates.
Source: Read Full Article