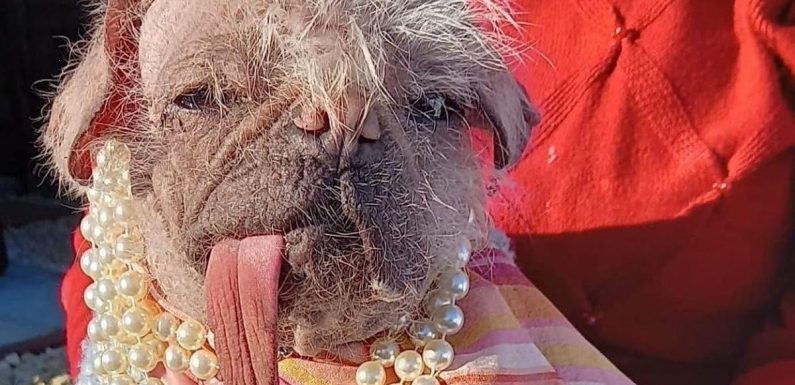 A sweet pooch who has been described as "the last on the shelf" has been crowned the UK's ugliest dog.
Peggy is a five-year-old cross between a pug and a Chinese crested breed – and the nation has fallen in love with her.
The unique pup has taken her newfound stardom in her stride as owner Holly Middleton says she is completely unfazed by the lights, camera and action as she rubs shoulders with celebrities.
READ MORE: Britain's 'ugliest sheep' stolen in horror crime as evil thieves kill one-eyed Scuzzy
Peggy has made headlines across the country in recent weeks, as well as appearing on BBC Breakfast, ITV's This Morning, Channel 5 News, and more to promote the competition.
Holly submitted Peggy's application along with a photo of the four-legged friend dolled up in her best, including a pear necklace.
ParrotPrint launched the contest for the first time in 2022 – and they were flooded with entries but Peggy was a clear favourite and today has taken the crown.
As the winner, she will be given a full makeover and a pamper session at a doggie spa. Once she's been pampered and looking her very best, she will be taken to a professional photoshoot.
Peggy was born as the result of an accidental litter and was the "last on the shelf" after the rest of her litter was adopted – with people seemingly put off by her appearance.
It took six months before Peggy found her forever home with Holly in East Yorkshire. Holly says it was love at first sight.
Black bear has rangers in stitches after taking more than 400 selfies on wildlife cam
The mum of two said: "We came across Peggy online at the end of 2018, she was six months old and the last remaining pup of an accidental litter.
"All the other pups had new homes but I imagine people looking at her saw nothing but a high-maintenance dog and the possibility of health issues.
"We loved her the Instant we laid eyes on her with her big brown eyes, little tuft of white hair and her tongue lolling out to one side. I just felt sorry for her, sat there with no hair and her tongue out.
"She was six months old so I just felt like no one wanted her. We didn't set out to get a quirky dog, an underdog. I hope it encourages people to overlook the little oddities of those dogs left on the shelf.
Adorable pup saved after being left to die and found 'cemented' into the ground by owner
"Luckily Peggy is a completely healthy and happy dog, her tongue doesn't cause her any issues, she can eat (and she really does love to eat) and drink with no problems, and other than having to wear jumpers for warmth in colder weather and sun cream in the summer she's exactly the same as any other dog.
"She's the best friend of my six-year-old, she's been there since he was two so they are just thick as thieves. My eldest was a little bit embarrassed by her at first…but I think now she's been on the telly and in the papers, he thinks she's cool!
People are only just realising how silk is made – and it's 'pretty gross'
"She's a total creature of comfort and loves nothing more than snuggling up on the sofa under her blanket after a walk, although sometimes her loud snoring can be quite disruptive if we're trying to watch something on TV.
"We entered Peggy into Britain's ugliest dog competition after multiple friends and family members told us she was probably in with a good chance.
"Even though some people find Peggy's unusual appearance strange, and in rare cases off putting and despite Peggy winning the ugliest dog in the UK title, we think she is beautiful both inside and out, and wouldn't change her for the world."
For the latest breaking news stories and incredible tales from the Daily Star, sign up for our newsletter by clicking here .
READ NEXT:
Diner served deadly octopus with enough venom to kill 26 adults at Chinese restaurant
Ants 'can sniff out cancer just by smelling your urine', scientists claim
eBay users sell £8k jars filled with water from Disney's closed Splash Mountain ride
OnlyFans star Elle Brooke shows brutal boxing toll after getting 'f***ed up' in sparring
Braless woman breaks into church and smashes Jesus statue worth almost £10,000
Source: Read Full Article