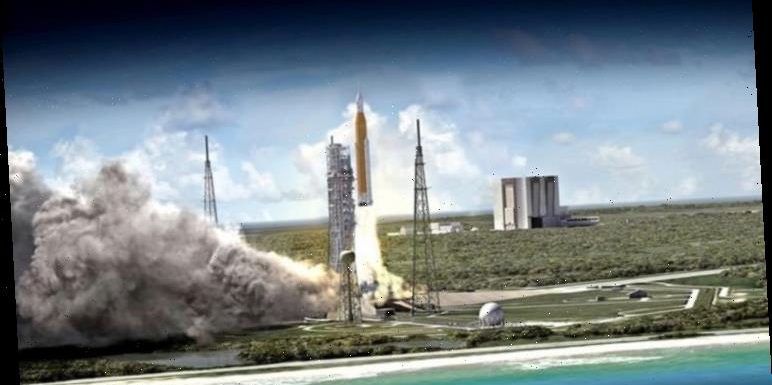 NASA test Space Launch System rocket in Utah
The first stage of NASA's next-generation SLS moon rocket faces a critical test firing today. This will see the four main engines powering the space rocket assessed for the final time before the fully-assembled booster's long-delayed launch on an actual unmanned flight.
What is the NASA SLS?
On Saturday, we'll fire up the engines

NASA
NASA's SLS is a super-heavy-lift launch vehicle capable of providing the foundation for exploring space far beyond our planet's orbit.
With its unprecedented power and capabilities, SLS is the only rocket that can send Orion, crew and cargo to the Moon on a single mission.
Offering more payload mass, volume capability, and energy, SLS is designed to be flexible and evolvable and will open new possibilities for payloads, including robotic scientific missions to places like the Moon, Mars, Saturn and Jupiter.
The rocket is expected to provide the power to help partially reusable space capsule Orion reach speeds hitting 24,500mph (40,000kph).
We will use your email address only for sending you newsletters. Please see our Privacy Notice for details of your data protection rights.
How to watch NASA 'hot fire' 'hot fire' test live stream:
The massive B-2 test stand is currently bolted in place at NASA's Stennis Space Center.
The upgraded Aerojet Rocketdyne RS-25 engines are scheduled to fire for a full eight minutes starting approximately 5pm ET (10pm GMT) on Saturday, January 15.
This specific SLS test spell as been selected as this is the same duration required for an actual flight.
The NASA SLS Twitter page posted on Friday: "It started with a tap. Later, we gimballed. On Saturday, we'll fire up the engines."
Live coverage will begin at 4.20pm (9.20pm GMT) on the NASA TV site and can be viewed via the link HERE or below.
This will then be succeeded by a post-test briefing roughly two hours after the test concludes – also freely available to all online.
NASA revealed in a statement how their RS-25 engines have been put to the test more than 3,000 times.
And they have also been fired for more than 18,000 minutes including shuttle flights and post-shuttle ground tests.
DON'T MISS
Stephen Hawking's 'black hole time machine' proposal to NASA [REVEALED]
Stonehenge breakthrough: Julius Caesar letter exposes 'secret' [VIDEO]
Antarctica discovery: Century-old letter reveals shock find [PICTURES]
https://www.youtube.com/embed/21X5lGlDOfg
However, what makes this event all the more special is how these four RS-25 engines have never weather-fired simultaneously or with a rocket the size of the SLS.
But this ambitious goal is – if all goes according to plan – is going to be put to the test in today's performance.
Jeff Zotti, Aerojet Rocketdyne RS-25 program director, said: "This will be our first test simultaneously firing all four RS-25 engines in this new Space Launch System configuration.
"We're all looking forward to seeing the core stage of the world's most powerful rocket fire up for the very first time."
Space agency NASA revealed a little more about what exactly will be taking place during this "hot fire" test in a recent blog post, underlining just how powerful the cutting-edge engines are.
NASA wrote: "The hot fire is the eighth and final test of the Green Run series to ensure the core stage of the SLS rocket is ready to launch Artemis missions to the Moon, beginning with Artemis I.
"The core stage includes the liquid hydrogen tank and liquid oxygen tank, four RS-25 engines, and the computers, electronics, and avionics that serve as the 'brains' of the rocket.
"During the test, engineers will power up all the core stage systems, load more than 700,000 gallons of cryogenic, or super-cold, propellant into the tanks, and fire all four engines at the same time to simulate the stage's operation during launch, generating 1.6 million pounds of thrust."
Source: Read Full Article