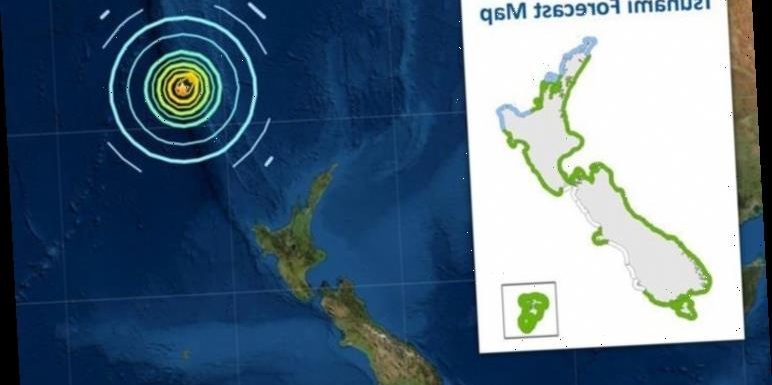 New Zealand: 6.9 magnitude earthquake strikes just off coast
When you subscribe we will use the information you provide to send you these newsletters.Sometimes they'll include recommendations for other related newsletters or services we offer.Our Privacy Notice explains more about how we use your data, and your rights.You can unsubscribe at any time.
The earthquake struck at 8.28am local time on Friday (7.28pm GMT) hundreds of kilometres from the coast of New Zealand. The quake's epicentre was traced to a depth of about 10km or 6.2 miles at the Kermadec Islands which sit 800km from mainland New Zealand. The country's National Emergency Management Agency confirmed it was the third earthquake to hit the Pacific Island today.
People have been told to immediately evacuate as far inland as possible and to seek high ground.
Tsunami activity is expected along the coast for several hours and the first wave to arrive may not be the biggest.
Click here to see the latest list of affected coastal areas and evacuation notices.
Today's earthquake also happens to be the most powerful earthquake since a magnitude 8 event struck near Peru in May 2019.
WCNC meteorologist Brad Panovich tweeted a map of the Earthquake's location.
He also said: "Here's a look at the location of the M 8.1 #Earthquake and #Tsunami Watch for Hawaii right now.
"This is the largest quake worldwide since May 2019 when a M 8.0 hit near Peru.
According to geologists at Michigan Technological University in the US, any earthquake on this scale has the power to destroy entire communities near the epicentre.
The Peru earthquake struck at a much deeper 110km but still caused a number of landslides and bridges to collapse.
The earthquake was also responsible for two deaths, 17 injuries and widespread damage to homes and public buildings.
There have been no reports of death or injuries from the New Zealand earthquake.
But more than 50,000 people have felt it, according to the geological hazard monitor Geonet.
And the powerful tremor is expected to inundate coastal areas with flooding between one and three metres in amplitude.
The New Zealand National Emergency Management Agency has issued tsunami warnings affecting the residents of North Island.
At 10.44am local time, the agency said flooding is expected along The West Coast of the North Island, from Cape Reinga to Ahipara.
Flooding is also expected along The East Coast of North Island from Cape Reinga to Whangarei, from Matata to Tolaga Bay including Whakatane and Opotiki and Great Barrier Island.
The agency further warned of "strong and unusual" currents that may lead to unpredictable surges near the shore.
DON'T MISS…
Yellowstone volcano rocked by 67 quakes amid fears of overdue eruption [REPORT]
Tsunami warning issued following major earthquake off New Zealand [INSIGHT]
SpaceX SN10 explosion: Watch as latest Starship prototype explosion [VIDEO]
Tsunami: National Geographic explain process
A tsunami forecast map issued by the agency shows the strongest waves concentrated along the northern coast of New Zealand.
Weaker waves between 0.3 and one metre are concentrated along parts of the east coast, the west coast, as well as the south coast.
Martha Savage a Professor of Geophysics at Victoria University of Wellington, told RNZ shallow quakes could follow in the wake of today's tremor.
She said: "Aftershocks will continue for a long time. But usually the magnitudes will decrease.
"In general, one in twenty times an earthquake will be followed by one that magnitude or higher within about a week.
"And most often, that bigger earthquake is within a day."
According to the US Geological Survey (USGS), the world's strongest 20 earthquakes ranged from magnitude 8.4 to 9.5.
The latter, the so-called Valdivia Earthquake, struck in Chile in May 1960.
The earthquake only lasted for 10 minutes but it is estimated to have killed between 1,000 and 6,000 people.
Source: Read Full Article