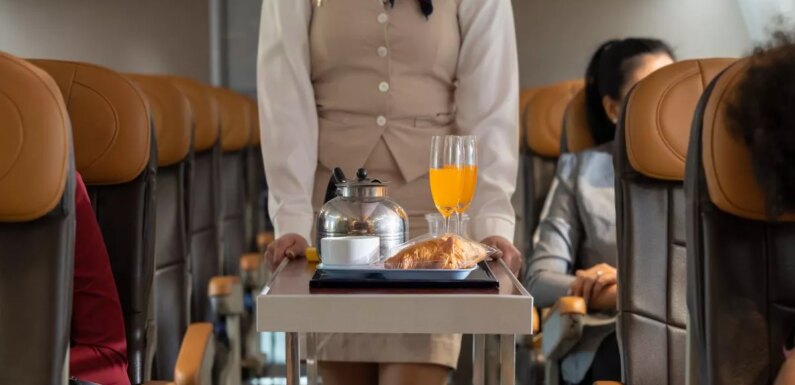 Airline food is patchy at the best of times. No one expects much more than overpriced tiny portions that might just about have a little bit of taste – if you're lucky.
But at least you should be able to expect that the grub is designed to be eaten by people rather than pets.
That's not what appeared to be on the menu in China on one carrier's planes, though. China Eastern Airlines claims it serves "imported dog food with okra" on its flights – but only if you fly business class, that is.
READ MORE: 'I found plane seat's hidden button – it really is a gamechanger on flights'
For more weird stories from the Daily Star, click here
It's just the latest unfortunate translation made by a company that seemingly hasn't carried out proper translation checks.
And it inevitably prompted some people on social media to have a little dig as a snap of the error went viral.
It was originally shared on Facebook by a chap called Conrad Wu, who simply asked: "What exactly is it?"
One of the amusing replies that was added to the post was "Must be a hot dog", while someone else said that China Eastern appeared to be a "pet-friendly airline".
One less charitable observer suggested that the menu was apt because "they treat you as a dog, not a human".
The snap was also shared on Reddit, where users picked up on the fact that "imported" dog food was available only in business class and was not on the menu for the majority of travellers.
"Apparently, economy class passengers only get domestic dog food," someone joked.
Another person wrote: "If it's business class I expect my imported dog food to be 96% air dried organic beef."
It was left to someone else to point out the obvious. "Most likely the translation has gone wrong," the comment said. It added: "Besides, how bad could dog food be?"
For the latest breaking news and stories from across the globe from the Daily Star, sign up for our newsletter by clicking here.
Source: Read Full Article