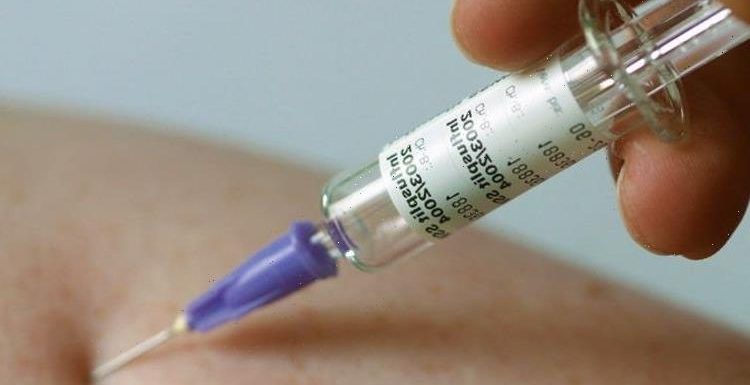 Pfizer and AstraZeneca vaccines approved for booster scheme
We use your sign-up to provide content in ways you've consented to and to improve our understanding of you. This may include adverts from us and 3rd parties based on our understanding. You can unsubscribe at any time. More info
The US pharmaceutical giant is looking to capitalise on the success of its Covid vaccine – one of the first Covid jabs approved in the UK and US. The same messenger ribonucleic (mRNA) technology that helped Pfizer design, test and launch the jab could soon be used to protect against influenza. Volunteers have now been inoculated with the test vaccine in Phase 1 of the company's clinical trial to test its safety and efficacy.
Pfizer believes the same vaccine technology can be leveraged to target other viral threats that affect the respiratory system.
Kathrin Jansen, head of vaccine research at Pfizer, said: "Since 2018, we have been working to develop a potential mRNA influenza vaccine, driven by our deep understanding of infectious diseases and our extensive experience in researching, developing and implementing new vaccine technologies to help prevent them.
"The COVID-19 pandemic allowed us to deliver on the immense scientific opportunity of mRNA.
"Influenza remains an area where we see a need for vaccines which could result in improved efficacy in any given season, and we believe mRNA is the ideal technology to take on this challenge to transform global health outcomes."
More than five million flu infections are diagnoses each year, accounting for 290,000 to 650,000 deaths worldwide.
At present, seasonal flu jabs only prevent 40 to 60 percent of the disease.
The vaccines are typically developed in labs growing the influenza virus inside of chicken or mammal cells.
The virus is then made inactive and processed into a vaccine that can help the body build resistance and immunity to the virus.
But the process is fraught with challenges and struggles to keep up with seasonal variations and mutations.
Pfizer coronavirus vaccine approved for 12 to 15 year olds
Vaccines using mRNA technology promise much faster vaccine development as they only need the virus's genetic sequence for production.
This could be particularly critical during a global pandemic, as seen by the unprecedentedly rapid development of mRNA Covid jabs.
The news will be welcomed by health officials who predict flu could trigger a full-blown crisis this winter.
Lower rates of flu during the pandemic and lockdowns may have led to an overall drop in immunity across the UK.
This is due to an increase in behaviours like hand-washing, wearing face masks and widespread social distancing.
Professor Anthony Harnden, the deputy chair of the Joint Committee on Vaccination and Immunisation, warned earlier this summer flu has the potential to be an even bigger threat than Covid.
He said: "I will emphasise that, actually, flu could be potentially a bigger problem this winter than Covid.
"We've had a very, very low prevalence of flu for the last few years, particularly virtually nil during lockdown, and we do know that when flu has been circulating in very low numbers immunity drops in the population, and it comes back to bite us.
"So flu can be really, really important this winter."
Pfizer's Phase 1 trials consist of 615 Americans aged 65 to 85.
According to the company, the volunteers have all received a single dose of the flu jab, "with an FDA-approved standard quadrivalent influenza vaccine as a control".
The company has been working on the vaccine since 2018, after entering a collaboration agreement with BioNTech.
Source: Read Full Article