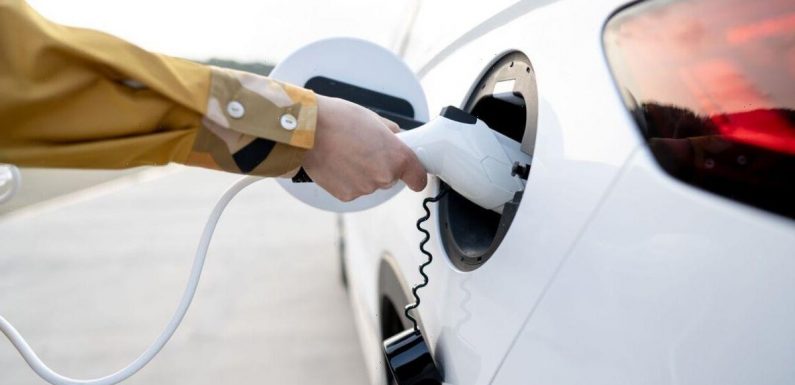 Animation shows electric vehicle batteries with new polymer coating
We use your sign-up to provide content in ways you've consented to and to improve our understanding of you. This may include adverts from us and 3rd parties based on our understanding. You can unsubscribe at any time. More info
Electric vehicles (EVs) could soon get a "big boost" thanks to a new conductive polymer coating for electrodes that will enable more powerful and long-lasting batteries. The coating — "HOS-PFM" — is capable of conducting both electrons and ions at the same time, giving batteries a high charge and discharge rate, as well as stability and longevity. In addition, the substance also shows promise as a battery adhesive which could extend the lifetime of the average lithium–ion battery from 10 years to 15.
The research was led by chemist Dr Gao Liu of the Lawrence Berkeley National Laboratory and his colleagues.
He said: "The advance opens up a new approach to developing EV batteries that are more affordable and easy to manufacture."
In their study, to demonstrate HOS-PFM's conductive and adhesive properties, the team covered aluminium and silicon electrodes with the coating.
They then put the coated electrodes through their paces in a lithium–ion battery setup.
At present, graphite is the material of choice for the manufacture of EV battery electrodes.
Aluminium and silicon make promising electrode materials for lithium–ion batteries because they are abundant, cheap, lightweight, and have a potentially high energy storage capacity.
However, they also have a significant drawback, in that they wear down quickly after multiple charge–discharge cycles.
Coating the electrodes in HOS-PFM, however, was shown to "significantly" prevent both aluminium- and silicon-based electrodes from degrading during battery cycling.
In fact, the team demonstrated that the coated electrodes were able to keep up a high battery capacity over 300 charge–discharge cycles — an endurance comparable to that of today's state-of-the-art electrodes.
The researchers wrote: "Synthetic polymers are versatile multifunctional materials that can solve key performance problems in energy technologies.
"We showed here that by forming hierarchically ordered structures in conductive polymers through controlled thermal processing, superior mechanical and transport properties can be achieved without sacrificing other useful built-in functionalities.
"The hierarchically ordered structures [HOS] design of the conductive polymer is able to realise high electronic conductivity and fast lithium-ion diffusion, rivalling the average lithium-ion diffusion in graphite.
"We can anticipate this type of HOS polymer material finding broad applications in energy devices, where coupled electron ion transport is crucial."
DON'T MISS:
Easter Island mystery after new moai statue found at bottom of lagoon [ANALYSIS]
Sunak urged to withhold £750m from EU space programme[REPORT]
Energy bill lifeline for millions as Shapps tipped to scrap £3k rise [INSIGHT]
According to the team, the HOS-PFM coating could enable battery manufacturers to use electrodes containing as much as 80 percent silicon, increasing the energy density of lithium–ion batteries by at least 30 percent.
Furthermore, silicon is far cheaper than graphite, meaning the switch could lower the price of electric vehicles and make them more affordable.
Having demonstrated its potential, the researchers are now working with companies to scale up HOS-PFM for mass manufacturing.
The full findings of the study were published in the journal Nature Energy.
Source: Read Full Article