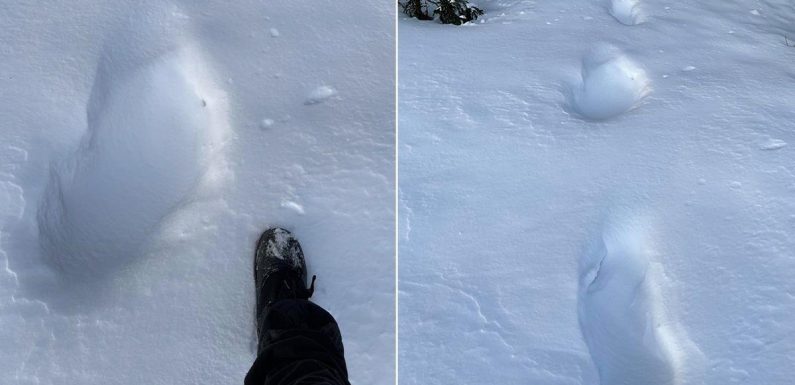 Bigfoot enthusiasts reckon they may finally have proof of the elusive beast after a series of monster footprints were photographed in the Canadian wilderness.
An image of the tracks was shared to the r/Bigfoot Reddit page yesterday (Monday, February 6) by the person who found them.
They explained that the footprints were found in Kananaskis County, Alberta, a remote region that is home to several wooded provincial parks and surrounded by mountains – in other words, prime Bigfoot territory.
READ MORE: 'Bigfoot shadow' spotted on Google Earth in forest that 'gives hikers the willies'
Handily, they also posted a second image showing their foot alongside one of the footprints.
Their foot, which they explained was a "size 10.5 boot", appeared to be roughly one third of the length and nowhere near as wide as the mysterious tracks.
Canadian size 10.5 is equivalent to UK size 10, measuring 10.75 inches. That would make the tracks in the snow around 30 inches long.
Most people thought the tracks could be real and all pointed to the same reason.
One comment read: "These could be the real deal. Looks like most of the legit tracks (straight in a line) but with a definitive left and right footprint shape. Looks deep enough – no way a small animal could leave that deep of an imprint."
Another said: "The linear pattern is consistent."
A third said: "Bigfoot walk with one foot directly in front of the other unlike humans which these tracks seem to indicate."
While a fourth wrote: "This is real , ran into the same tracks up north Canada but wayy smaller I'd say this is an alpha male.
"The tracks are in line one foot directly in front of the other in stride , the toe prints are really weird on these ( like the middle toe finger is longer than the others definitely not your conventional human foot ) yea u might want to not track it , stay safe ! [sic]."
The person who found the tracks said they were returning to the area today (Tuesday, February 7) to follow them.
However, they shared in an update: "I went back to the location today and unfortunately the tracks were filled in by snowdrifts, I am going to try a few different areas close to the location where I found these in hopes of finding some fresh tracks.
"If I am successful I will post them on here! Thank you all for your interest and comments on this find!"
For the latest breaking news and stories from across the globe from the Daily Star, sign up for our newsletter by clicking here.
READ NEXT:

Hunter discovers 'Bigfoot tracks' with monster footprints '8ft apart' in deep snow

Scientist 'finally solves' Bigfoot mystery after thousands of 'big hairy beast' sightings


'Bigfoot killed in car crash being covered up by police', conspiracy theorist claims
Source: Read Full Article