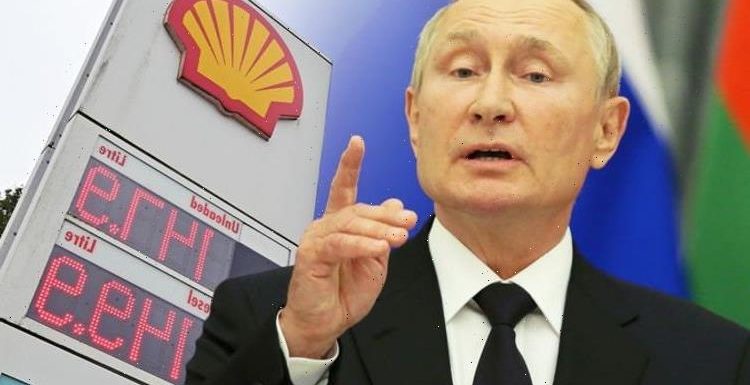 Germany's dependence on Russian fuel criticised by Dolan
We use your sign-up to provide content in ways you've consented to and to improve our understanding of you. This may include adverts from us and 3rd parties based on our understanding. You can unsubscribe at any time. More info
Figures published on Monday by delivery management experts Urbantz have ranked the UK 14th on a list of 40 European countries with the most expensive fuel. The study estimates Britons spend on average about 26 percent of their weekly wages on petrol and electricity combined. An average 55-litre tank of petrol was estimated to cost £81, while electricity was estimated to cost an average £39 a week.
The figures indicate British customers are forking out £121 on petrol and electricity each week – more than 26 other European nations.
The report emerged just days after a London-based think tank warned Express.co.uk that Russia has the capacity to shut down ATMs and petrol stations all across the UK.
Concerns have also been raised about Russia's alleged involvement in the global energy crunch, which has caused nearly 30 UK energy suppliers to go bust this year.
Moscow has been accused of withholding critical gas supplies from Europe in a bid to gain political leverage over the European Union.
Many experts believe President Vladimir Putin has weaponised Russia's gas exports to push through the approval of the controversial Nord Stream 2 project.
Nord Stream 2 runs directly from Russia to Germany, which was ranked third on the Urbantz list, and bypasses Poland and Ukraine in the Baltic.
Russian officials have, of course, denied meddling with the European markets but Mr Putin has, quite tellingly, argued that approving the pipeline would solve Europe's problems.
He has also blamed Europe's push for green, renewable energy as the source of its woes.
Speaking during a government meeting in early October, he claimed the European market has been gripped by "hysteria and some confusion" in the wake of skyrocketing energy prices.
Expert accuses Russia of blackmailing Europe over gas trade
The cost of wholesale gas alone has risen by more than 600 percent this year.
Now, according to the report published by Urbantz, Britons are experiencing some of the most expensive petrol and electricity prices in Europe.
At the top of the list is Finland, where customers are estimated to spend an average £179 on petrol and electricity.
According to Urbantz, this is about 19 percent of a weekly salary of £918.
Sweden was ranked as the second most expensive country for fuel and electricity, at an average price of £165 per week.
Compared to Finland, this is about 30 percent of a weekly salary of £543.
The top 15 countries in order from most expensive to least are: Finland, Sweden, Germany, Denmark, Belgium, Luxembourg, Netherlands, Ireland, Austria, Switzerland, Portugal, Italy, France, UK and Greece.
An Urbantz spokesperson said: "With the cost of petrol and electricity skyrocketing due to rising wholesale costs, this data offers a striking picture of where the UK sits in Europe when it comes to the average cost of fuel.
"Despite earning among the lowest weekly salaries in the Western and Northern Europe, we still have some of the highest electricity and petrol prices, only fuelled by recent supply chain issues and the soaring global price of oil.
"In the UK, electricity and petrol prices currently swallow up over a quarter – 27 percent – of the average weekly wage, and we can only expect prices to increase further with the recent collapse of energy suppliers and upcoming cold weather."
At the bottom of the list is Kazakhstan, which straddles the border between Europe and Central Asia.
In Kazakhstan, a tank of petrol was estimated to cost an average £25 and the average electricity bill is about £7.80.
Similar prices can be found in Azerbaijan and Belarus.
Source: Read Full Article