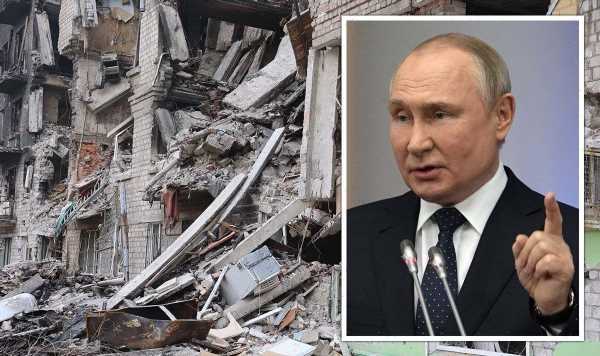 Putin 'will use nuclear weapons if facing defeat' says expert
We use your sign-up to provide content in ways you've consented to and to improve our understanding of you. This may include adverts from us and 3rd parties based on our understanding. You can unsubscribe at any time. More info
Over two months in, experts have begun analysing Russia's invasion of Ukraine, with patterns beginning to emerge from the siege of various cities, including Mariupol and Bucha. Dr Keith Dear, a former British military advisor, has noted that Putin has a "one-two-three tactic to subdue Ukraine". According to the former RAF intelligence officer, the Kremlin's first move in Ukraine is to silence the country by shutting off communications within the country, and with the outside world.
This can be achieved by taking down mobile phone towers, as was in the case of the destroyed city of Mariupol, which had a communications blackout for weeks.
Dr Dear continued: "Then when no one can hear the screams, the starvation – a slow constriction through sieges.
"And finally savagery – indiscriminate murder, collective punishments, perhaps genocide."
He added that this is exactly what happened to Mariupol, which was one of the largest cities in Ukraine, and which Putin claims is currently under Russian control.
According to urban warfare expert Professor Anthony King, Putin may attempt a similar Mariupol-style siege on several other Ukrainian cities.
He tweeted: "The fact that RUS has decided not to storm the Azovstal steelworks is deeply significant for the Donbas.
"There, they face three cities of 100,000 (Sloviansk, Severodonetsk and Kramatorsk) and many other smaller towns.
"Each might be a potential Mariupol."
However, Dr Dear believes that there is a counter to the Russian forces' attempts to create silence and then starvation.
In a post for Wavell Room, he wrote: "There is a counter – drones can provide 3G internet and cell phone access into areas where Putin would deny it.
"Drones – uncrewed aircraft – can keep aid moving.
"A 21st century Berlin airlift would deploy drones to stop silence and starvation being used as weapons.
"A one-two parry to protect Ukrainians as best we can."
In April, a Russian volunteer with the Ukrainian Armed Forces, Artyom Shirobokov revealed how the communications blackout was allowing atrocities like the one in Bucha to continue.
DON'T MISS:
Shark mystery as super-rare 'living fossil' with 300 teeth found [REPORT]
How the UK, US and their allies could respond to a nuclear attack [INSIGHT]
India comes to Russia's rescue AGAIN as coal imports soar [REVEAL]
In a text to a Ukrainian MP, he revealed that he had witnessed the grim details of how the Russian army "does not touch the civilians".
He wrote: "If, in Kherson and Melitopol, people hurl themselves against Russian tanks and come out to protest, it's because they still have communications.
"In the small towns [around Bucha], where there is no mobile communications and no internet, everything looks completely different.
"Civilians are shot. Just for fun. For pleasure.
"I was led down a street…littered with the corpses of grandmas and grandpas."
In Mariupol, Russian forces are reportedly preparing a military parade where they will force Ukrainian civilians to put on soldiers' uniforms and pose as prisoners of war.
Reports on the bizarre plans of the Russian forces were confirmed by Petro Andryushchenko, advisor to the mayor of Mariupol.
Source: Read Full Article