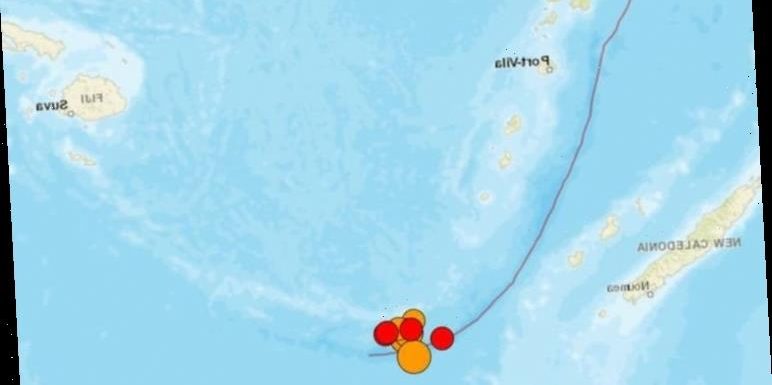 Indonesia: Earthquake hits island of Sumatra
When you subscribe we will use the information you provide to send you these newsletters.Sometimes they'll include recommendations for other related newsletters or services we offer.Our Privacy Notice explains more about how we use your data, and your rights.You can unsubscribe at any time.
A number of earthquakes were recorded in the Pacific Ocean on Wednesday afternoon. Five separate tremors near New Caledonia sparked authorities to send urgent tsunami warnings across the continent of Oceania.
The first earthquake earthquake struck at 12.24pm on Wednesday, February 10.
It measured 6.0 on the Richter scale, and was swiftly followed by another 5.7 magnitude 'quake.
At 1.20pm, a 7.7 scale earthquake in the same area sparked a major tsunami warning.
The tsunami could reach up to one metre in height, officials warned.
Earthquakes in the Pacific Ocean on Wednesday, February 10
12.24pm – Southeast of the Loyalty Islands – 6.0 magnitude
12.32pm – Southeast of the Loyalty Islands – 5.7 magnitude
13.02pm – Southeast of the Loyalty Islands – 6.1 magnitude
1.20pm – Southeast of the Loyalty Islands – 7.7 magnitude
1.57pm – Southeast of the Loyalty Islands – 5.2 magnitude
2.18pm – Southeast of the Loyalty Islands – 5.6 magnitude
2.30pm – Southeast of the Loyalty Islands – 5.0 magnitude
2.37pm – Southeast of the Loyalty Islands – 5.2 magnitude
2.49pm – Southeast of the Loyalty Islands – 5.1 magnitude
2.59pm – Southeast of the Loyalty Islands – 5.1 magnitude
More to follow…
Source: Read Full Article