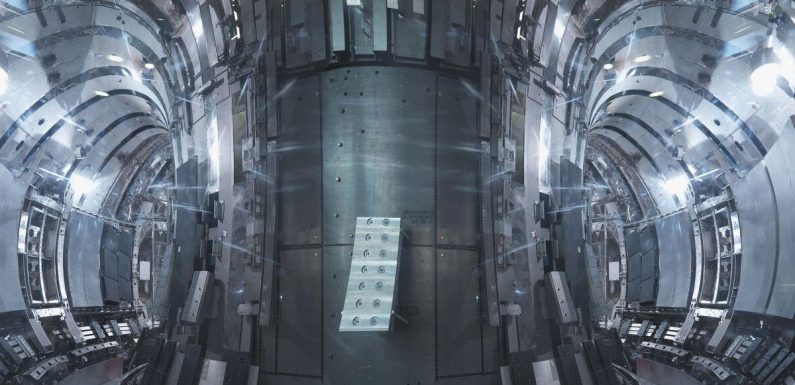 Pulsar Fusion founder discusses nuclear power
We use your sign-up to provide content in ways you've consented to and to improve our understanding of you. This may include adverts from us and 3rd parties based on our understanding. You can unsubscribe at any time. More info
Senior Rolls Royce chief Warrick Matthews has joined a UK-based nuclear fusion company looking to harness limitless low-cost energy. Tokamak Energy, based near Oxford, has appointed Mr Matthews as Managing Director and Chief Commercial Officer, as the company pursues the development and deployment of commercial fusion through using "spherical tokamaks". Nuclear fusion reactions involve "fusing" atoms of hydrogen together instead of splitting large atoms apart, generating vast amounts of energy in the process.
As the world scrambles to end its reliance on fossil fuels – Russian or otherwise – the energy generated from nuclear fusion has been tipped to help create a near-limitless source of power.
According to Tokamak Energy, Mr Warrick joined the company from Rolls-Royce "where he enjoyed a 24-year career holding several leadership positions, most recently as Chief Procurement Officer for the Civil Aerospace division".
They added: "Warrick will lead Tokamak Energy's business towards its goal of demonstrating grid-ready fusion power by the early 2030s. His experience in global industrial partnerships and supply chain development will be invaluable in executing Tokamak Energy's ambitious growth strategy."
"At Rolls-Royce, Warrick led a team of more than 2,000 people in the engine control systems business unit. He also transformed its global engine overhaul network and oversaw the engine production and test facilities in Derby."
Chris Martin, Tokamak Energy's Chairman, said: "With his track record of success at Rolls-Royce, we are delighted to welcome Warrick to Tokamak Energy.
"He brings a wealth of invaluable leadership experience which will underpin our mission to develop commercial fusion energy. His expertise will add new perspective as we build strategic partnerships, grow and diversify our global supply chain and deliver value to our investors."
Warrick Matthews added: "I've been following Tokamak Energy's incredible progress closely for several years. It is the one company I wanted to join, and I am excited to be part of this amazing team. The incredibly talented people here are driven by a vital mission and purpose.
"They are developing the technologies that will deliver the energy source needed to protect our planet's future. The business is moving into an exciting new phase of development and growth, and I can't wait to make a difference."
The company has been moving forward with their goal of developing commercialised nuclear fusion, with Tokamak recently announcing that its new fusion energy advanced prototype with power plant-relevant magnet technology will be built at the UK Atomic Energy Authority's (UKAEA) Culham Campus, near Oxford.
Tokamak Energy's compact spherical tokamak, ST80-HTS, will demonstrate multiple technologies required for the delivery of clean, sustainable fusion energy.
This includes a complete set of cutting-edge high-temperature superconducting (HTS) magnets to confine and control the hydrogen fuel, which becomes plasma many times hotter than the sun.
Speaking to the Express, Chris Kelsall, the CEO of Tokamak previously explained: "By passing a current through barium-copper oxide superconductors, we can create super strong magnetic fields in a ring-doughnut shape that contain this superheated plasma of deuterium and tritium, and we then can produce these fusion reactions efficiently."
DON'T MISS:
Terrifying footage shows spider devour much larger shrew in UK [VIDEO]
Micrometeors struck again causing latest Russian spacecraft leak [INSIGHT]
ChatGPT only manages to write 'basic' CV for job-seeker [REVEAL]
This method has the benefit of having a "low capital cost to build the plant, we have low operating costs, and we put relatively less energy in for the amount of energy that comes out."
Tokamak noted that constructing the new purpose-built facility at UKAEA's Culham Campus will provide the company with access to leading science and engineering capabilities, including knowledge and experience in designing, constructing and operating the record-breaking Joint European Torus.
Announcing the site earlier this, Mr Kelsall said: "Today's exciting announcement is a major step forward on our mission to demonstrate grid-ready fusion energy by the early 2030s.
"Our next device, ST80-HTS, aims to validate key engineering solutions needed to make commercial fusion a reality and will showcase our world-class magnet technology at scale.
"It's clear public and private partnerships of this nature will be a crucial catalyst for fusion to deliver global energy security and mitigate climate change."
Professor Sir Ian Chapman, CEO of UKAEA, said: "Our ability to host major facilities extends right across the supply chain from design to decommissioning.
"The announcement is a testament to Culham's attractiveness for fusion development as we welcome Tokamak Energy to the cluster on the Campus."
Source: Read Full Article