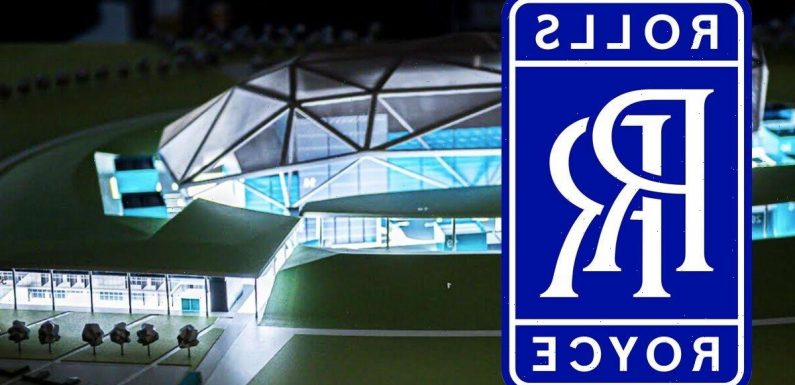 British engineering giant Rolls-Royce has urged the Government not to lose focus on the development of a revolutionary new form of nuclear power. Rolls-Royce's boss Tufan Erginbilgic has asked ministers to get behind its small nuclear reactors (SMRs), which once built could provide millions of homes with clean, affordable energy.
The main advantage of SMRs is they are smaller, cheaper and easier to deploy than traditional nuclear power stations.
Typically, nuclear power stations take years to build and are costly and often run over budget. EDF's Hinkley Point C has faced delays due to the rising cost of the project which is now expected to hit £32billion.
Once built, it could power six million homes with clean electricity and help the UK wean itself off expensive fossil fuel imports, the price of which has soared in 12 months as a result of Russia's war in Ukraine.
The energy crisis highlightd the urgent need for Britain to ramp up its homegrown power supply to achieve energy independence to free itself from these volatile markets. In the long run, doing so will help it race to a carbon-free energy network and help to lower bills.
And according to Rolls-Royce, SMRs have a crucial role to play. With 470 megawatt SMR being the size of just two football pitches but capable of powering half a million homes each, they could be a game-changer for the UK energy mix.
But Rolls-Royce is not the only firm that is working on the development of SMRs, competing with serval others around Europe.
Mr Erginbilgic has stressed the Government needs to engage in talks about his company's deployment of the reactors to stay on top.
He told The Daily Telegraph: "We need to come to the table and work very seriously and sign an agreement for the deployment of the first project. First mover advantage will be important."
The British firm wants to build at least 30 470 megawatt-capacity SMRs, which together could provide millions of homes with electricity.
If it was able to mass-produce them, this would slash manufacturing costs and open up far more potential sites. The innovations are also designed to be affordable enough for private firms to buy them.
However, at £1.8billion a pop, the Government needs to get behind them to encourage customers to have the confidence to buy the reactors, according to Mr Erginbilgic.
But the Government has already signalled a significant level of support for the nuclear plants, demonstrated through its £210million investment pumped in to help with their development.
DON'T MISS
Worrying satellite image from space shows the true extent of droughts [REPORT]
HIV breakthrough as man cured of virus is third in the world [REVEAL]
Face of 'lonely' Stone Age boy brought back to life after 8,300 years [INSIGHT]
Previously speaking to Express.co.uk, Kwasi Kwarteng when Business Secretary said: "Coupled with massive amounts of offshore wind and solar, we are absolutely ready to turn the UK into a major clean energy exporter in the coming decades, which would be a huge reversal of fortunes.
"By supporting the early development of the Rolls-Royce SMR technology, not only could we maximise British-made materials, create new intellectual property and reinvigorate local supply chains, but also position our country as a major exporter of nuclear technology with a UK stamp.
"We are determined to harness British engineering know-how to deploy more home-grown, affordable clean energy in this country, and help our European friends end their dependency on Russian oil and gas – small modular reactors could do just that."
Meanwhile, Greg Hands, who was energy minister before replacing Nadhim Zahawi as minister without portfolio, previously said he understands "the important role small modular reactors offer for enhancing energy security".
In fact, the Government is aiming to to deploy a First-of-a-Kind SMR by the early 2030s and has said it will "continue to progress work on key policy and market enablers, including finalising regulatory access, siting, and financing for SMRs".
Express.co.uk has approached the government for comment.
Source: Read Full Article