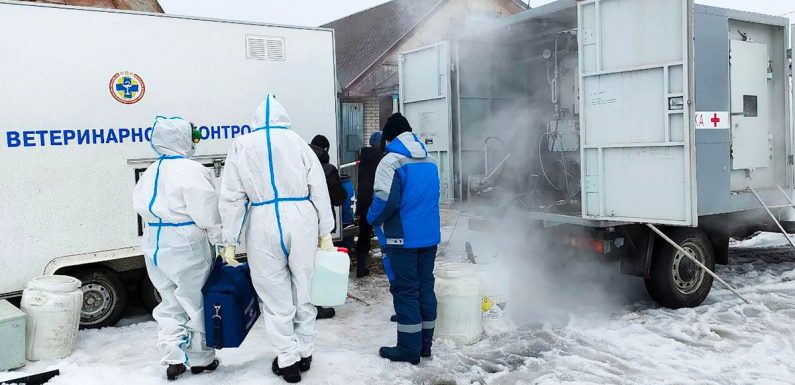 Bookmark
Don't miss a thing! Sign up to the Daily Star's newsletter
We have more newsletters
Authorities in Russia have admitted that an anthrax outbreak could be underway after an infected bull was sold as meat – with a whole village being closed off.
A married couple, from Staroye Aktashevo in Chuvash Republic, Russia, who slaughtered the bull are in hospital in "severe" conditions with confirmed anthrax poisoning.
The butchers became infected through cuts on their hands as they slaughtered the animal.
READ MORE: Inside bizarre Moscow St Patrick's Day parade long before Russia invaded Ukraine
Checkpoints have been set up around Staroye Aktasheva and a major quarantine operation is underway, according to a video that also shows the disinfectant operation in the village.
The authorities have admitted that meat from the infected animal has been sold to multiple unknown people and is likely to have spread.
Meat from the half-ton bull is feared to have been sold to dozens of buyers who are now at risk of infection, it is reported.
People known to have been in contact with the pair are "under constant medical supervision, and receiving preventative treatment", said Oleg Nikolayev, the senior official in the Chuvash Republic, on the Volga River.
Mash reported: "The hospitalised man caught the disease, injuring himself with a knife while butchering a bull.
"The man managed to sell the infected meat of the bull…"
Inside bizarre Moscow St Patrick's Day parade long before Russia invaded Ukraine
Anthrax is deadly to animals and humans if not detected quickly.
It can lead to sepsis, damage to multiple organs, and inflammation of the membranes covering the brain and spinal cord, causing massive bleeding and death.
Local animals as well as humans are being monitored for signs of infections.
There has been concern in Russia over the release of zombie anthrax viruses "locked" in permafrost soil now thawing due to climate change.
Separately, during the Cold War, the USSR weaponised anthrax in clandestine military biological labs.
To get more stories from Daily Star delivered straight to your inbox sign up to one of our free newsletters here.
READ NEXT:
For more of the latest news from the world of the Daily Star, check out our homepage

WWE 2K23 review: A new must-have undisputed king of wrestling games has emerged

UK beach branded 'worst place on earth' with visitors warned to 'stay away'
Source: Read Full Article