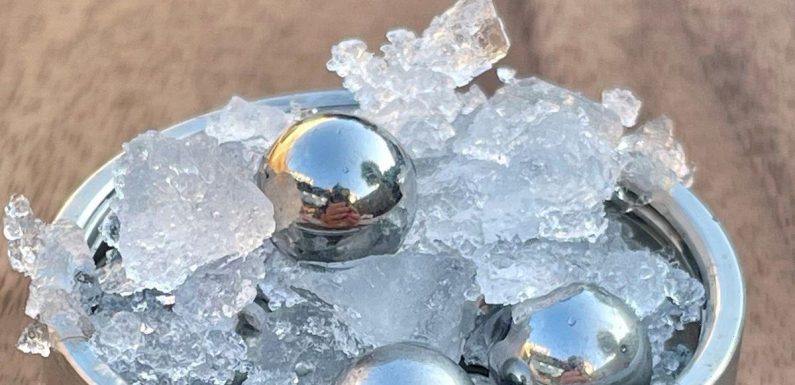 Scientists who have found a new type of ice believe that it could hold the key to finding alien life.
Boffins from the University College London found a type of amorphous ice that has the same density as liquid water and named it MDA (medium-density amorphous) ice.
Amorphous ice, although rare on Earth, is the main type found in space and the recent findings raise interesting questions about water – and life – in space.
READ MORE: Elon Musk told 'that's what she said' after warning AI porn is 'coming'
The team used a process called ball milling – vigorously shaking ordinary ice together with steel balls in a jar cooled to -200 degrees Centigrade.
Rather than ending up with small bits of ordinary ice, the process yielded the novel amorphous form of ice.
Tidal forces from gas giants such as Jupiter and Saturn may exert similar shear forces on ordinary ice as those created by ball milling.
When MDA was warmed up and recrystallised, it released an extraordinary amount of heat.
It could trigger tectonic motions and 'icequakes' in the kilometres-thick covering on Ganymede.
Jupiter's satellite is bigger than Mercury and only slightly smaller than Mars. It may host more water than all of Earth's oceans – about 100 miles below its crust.
WW3 fears as US general tells of 'gut feeling' about war with China in 2025
It is believed hardy single-celled microbial life – known as extremophiles – could exist there.
Scanning techniques identified the structure and properties of MDA.
The researchers found if they compressed it and then warmed it up, it released a surprisingly large amount of energy as it recrystallised.
It shows water can be a high-energy geophysical material that may drive tectonic motions in the ice moons of the solar system.
Senior author Professor Christoph Salzmann said: "Existing models of water should be re-tested. They need to be able to explain the existence of medium-density amorphous ice.
"This could be the starting point for finally explaining liquid water."
To get more stories from the Daily Star delivered straight to your inbox sign up to one of our free newsletters here.
READ NEXT:
World's richest dog worth £65m lives in Madonna's mansion and 'has secrets'
Police hunting couple caught performing lewd sex act on UK train in viral clip
Brit has 'fingertip bitten off by Russian tourist in furious row over last beach bean bag'
Rookie Brit cop suspended for 'fling with boss' went on 'one date' with heroin kingpin
Sick attacker left girl with Agoraphobia after dragging her down alleyway to rape her
Source: Read Full Article