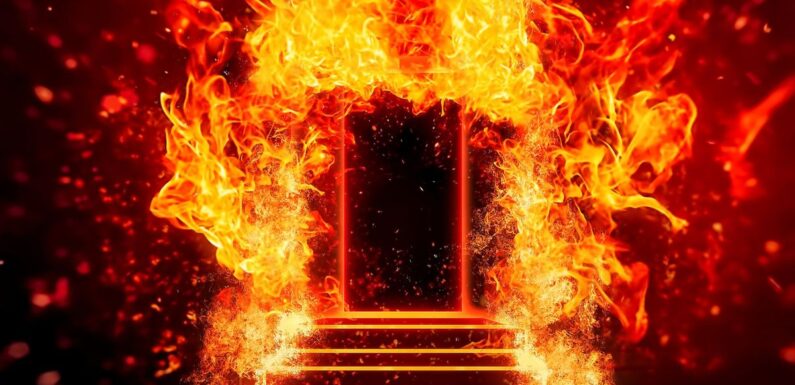 A cave in Jerusalem may once have been used as a "portal to the underworld".
The Te'omim Cave on the ancient city's western hills has been studied for 150 years, and scientists have believed for many years the spring water that flows through it was thought to have healing properties between 4000 BCE and the fourth century AD.
Now three skulls and more than 100 ceramic lamps have been discovered in the cave's nooks and crannies, prompting boffins to come up with a new theory.
READ MORE: Woman defaces Rome's Colosseum just weeks after Brit tourist sparked outrage
Two archaeologists have now published a new idea in the Harvard Theological Review that the items in the cave were used to conjure dead spirits.
"The Te'omim Cave in the Jerusalem hills has all the cultic and physical elements necessary to serve as a possible portal to the underworld," write Eitan Klein from the Israel Antiquities Authority at Ashkelon Academic College and Boaz Zissu from Bar-Ilan University.
In the 1970s, researchers found a series of previously-undiscovered secret passageways leading to hidden chambers within the cave.
In these crevices coins, pottery and metal weapons had been stashed, as well as the lamps and skulls.
Writings unearthed from around the time of the Roman era suggest the way the flames within the lamps flickered was considered a way of communicating with demons and spirits from beyond the grave.
Spice zombie UK town 'like stepping onto another planet' with 'ghost' shopping centre
Meanwhile skulls were associated with sorcery at the time and the weapons were believed to help fight off evil spirits, according to researchers.
The items were hidden deep in the cave, and archaeologists had to use long hooked poles to retrieve the items, particularly the skulls.
Caves were considered key places of idolatry by Jewish religious leaders and practitioners of dark arts in ancient times.
One text on Jewish oral traditions suggests as many as 80 women working in a cave south of Tel Aviv were once hanged for their underground witchcraft.
"As far as we know, other than the use of skulls for sorcery and necromancy, rituals involving human skulls are hardly ever mentioned in classical sources," the archaeologists added.
For the latest breaking news and stories from across the globe from the Daily Star, sign up for our newsletter by clicking here.
Source: Read Full Article