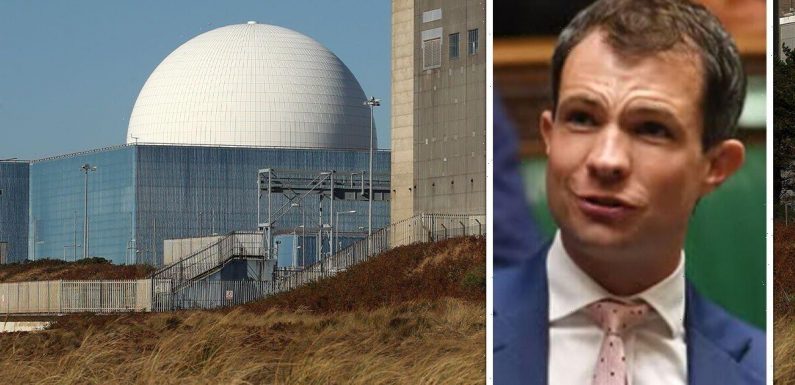 The SNP has urged the UK's new energy minister not to bring new nuclear projects to Scotland. The SNP has called on Westminster to focus on other renewable energy alternatives to fossil fuels as the UK scrambles to reduce its reliance on oil and gas, the price of which has soared over the last year in a global energy crisis sparked by Russia's war in Ukraine.
Instead, the party argues that nuclear is unlikely to ease the current energy crisis as it can't be rolled out quickly enough to bring bills down.
Supporters point out new nuclear power stations take years to build and rolling them out is an expensive and difficult process. Hinkley Point C has faced repeated delays and has gone over budget and is expected to cost £32billion.
This week, a report by Politico revealed Andrew Bowie is set to become the country's first-ever nuclear minister in the new Department for Energy Security and Net Zero. Now, the SNP has sent Mr Bowie a warning.
The SNP's Westminster energy spokesman Alan Brown said: "Andrew Bowie must be taking up one of the most pointless ministerial positions in the UK Government.
"If the Tories think they will bring down energy bills by building nuclear power stations that won't be ready for years to come then they are more delusional than we thought.
"Scotland is awash with renewable energy potential and Andrew Bowie should be focusing his efforts there, as it will create jobs for his constituents for decades to come and will ensure we are using Scotland's energy potential to the fullest."
This is despite the Government's April energy strategy detailing a huge expansion of the UK's nuclear capacity as part of the drive to slash dependence on Russian fossil fuels.
The plan included an ambition to have nuclear power generating around 25 percent of the country's clean electricity by 2050 up from the current 15 percent. Up to eight designated nuclear sites were in the strategy, wit the roll out of revolutionary small modular reactors, which are cheaper and easier to build.
The Government unveiled measures in response to rising global gas prices to "ensure Britain's future energy supply is bolstered by reliable, affordable, low carbon power that is generated in this country".
While nuclear energy is only part of the strategy, including a plan to expand Britain's renewable energy capacity with other power sources such as wind and hydrogen, the SNP is vehemently against nuclear in Scotland.
The Conservative Party and the SNP have been known to clash on their stances on nuclear energy preciously. Liz Truss, the former Prime Minister who holds the record for the shortest-ever time in office, hit out at the now resigning Scottish First Minister Nicola Sturgeon during a speech at the Conservative party conference for her anti-nuclear stance.
She said: "Nicola Sturgeon won't build new nuclear power stations in Scotland to solve the energy crisis in Scotland.
DON'T MISS
Thousands urged to switch off electricity tonight in new test [REPORT]
Octopus Energy absorbs another supplier as 60,000 customers warned [REVEAL]
Mum's solar panel perks which includes making money from energy [INSIGHT]
"Have these people ever seen a tax rise they don't like? Or an industry they don't want to control? They don't understand the British people. They don't understand aspiration. They are prepared to leave our towns and cities facing decline."
But Mr Brown added: "Households across Scotland are desperate for solutions to sky-high energy bills now and nuclear power will not provide that answer – indeed, the Government has confirmed it will increase our energy bills.
"Scotland is rich with renewable energy potential and we cannot have our resources squandered once again by successive Westminster governments, that is why the only way we can harness the potential of Scotland's energy is by becoming an independent country."
He added that nuclear projects were "one of the most expensive forms of energy", pointing out the staggering costs of the UK's main two nuclear projects in the pipeline, Hinkley Point C and Somerset C, which together could power 12 million homes once built.
The Scottish Government has an effective veto on new nuclear power developments through planning regulations.
The Hunterston B nuclear plant in North Ayrshire stopped production last January, meaning the EDF-operated Torness site in East Lothian is the only remaining nuclear power site in Scotland.
A UK Government spokesperson said: "Putin's weaponisation of energy has shown how vital UK energy security is, and nuclear sits at the heart of achieving our energy independence.
"Nuclear provides reliable and clean energy, thousands of new well-paid jobs across the country and will help us delivery the cheapest electricity in Europe by 2035.
"Anyone dismissing these obvious benefits of nuclear energy is doing a disservice to the British, and Scottish, people. The UK's Committee on Climate Change, the International Energy Agency and UN Economic Commission for Europe have all highlighted the important role for new nuclear electricity, in partnership with renewables, in helping the UK reach net zero."
Source: Read Full Article