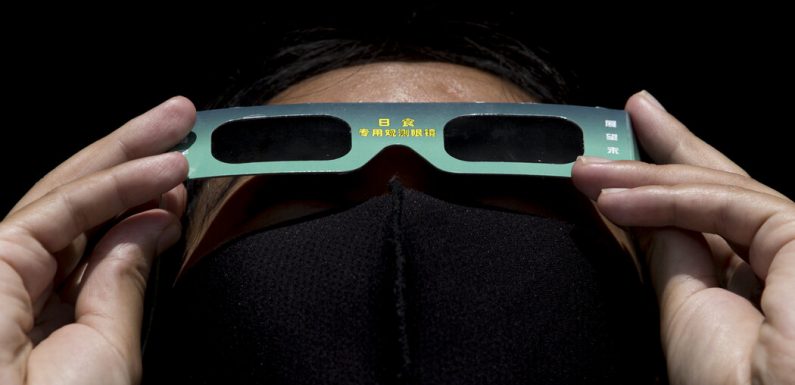 Every couple of years or so somewhere on Earth, the wanderings of our planet, the sun and the moon cause them to line up like billiard balls on a velvet space table. Seeing worlds disappear behind each other in an eclipse can make you cry or scream. But getting to that point frequently takes hard work, and maybe even a bit of luck.
That looked to be as true for the coming eclipse as it has been since humans started chasing these celestial occurrences.
On Thursday just after sunrise over the eastern half of North America, the sun will be almost completely blotted out by the moon for a few dawn hours in an annular solar eclipse.
During such an eclipse, the black silhouette of the moon — too far from Earth to completely cover the sun — will be surrounded by a thin ring of our home star's surface, or photosphere. Many know this as a "ring of fire," but few will get to experience the full effect.
The eclipse will start after sunrise north of Lake Superior as it crosses remote regions of Canada and then into Greenland and the Arctic Ocean before going over the North Pole. It then heads south before ending in parts of the Russian Far East.
Still, some lucky souls will get to experience this cosmic geometry, and a few were even intrepid and well organized enough to book airplane flights into the zone of maximum darkness. Many more of us will get to experience a partial solar eclipse if we wake up early to clear enough skies.
— Dennis Overbye
SIBERIA
GREENLAND
CANADA
RING OF FIRE
Area of visible annular eclipse.
CRESCENT SUN
Line where 60% of the sun's diameter will be covered by the moon.
GREENLAND
CANADA
RING OF FIRE
Area of visible annular eclipse.
CRESCENT SUN
Line where 60% of the sun's diameter will be covered by the moon.
By Jonathan Corum | Sources: EclipseWise; NASA
How can I watch the eclipse?
The ring of fire will be visible across a narrow band in the far northern latitudes, starting near Lake Superior in Ontario, Canada, at sunrise, or 5:55 a.m. Eastern time. It will then cross Greenland, the Arctic Ocean and the North Pole, ending in Siberia at sunset, or 7:29 a.m. Eastern time.
Outside of that strip, observers will see a crescent sun, or a partial solar eclipse. The closer they are to the centerline, the more of the sun will be gone.
In the New York metropolitan area, said Mike Kentrianakis, who was the Eclipse Project Manager for the American Astronomical Society during the big eclipse in 2017, the sun will be about two-thirds obscured when it rises at 5:25 a.m. Eastern time.
"It will then reach a maximum obscuration of nearly 73 percent at 5:32 a.m. from New York City," he wrote in an email.
Much, though, will depend upon the weather. A weather forecast anticipated clouds in the skies over New York at sunrise, but with little likelihood of rain.
Is it safe to look at a partial solar eclipse, or an annular one?
No. Unless you're wearing special protective glasses, it's never a good idea to look directly at the sun, even if it is partly or annularly eclipsed.
Exposure to intense light from the sun during an eclipse can cause injuries to your retinas that may not heal. Such damage can lead to permanent vision loss, depending on how much exposure you experience.
To keep safe, wear eclipse glasses while viewing the eclipse. Not sunglasses — eclipse glasses, like the ones you may have shoved in a drawer after 2017's "Great American Eclipse."
But if you can't get any glasses or other filtering viewers in time for Thursday's eclipse, there are other things you can do, like make a pinhole projector at home with cardboard or a paper plate. Here are some instructions.
If you want to be more prepared next time there's a solar eclipse in your vicinity, here's a list of reputable vendors from the American Astronomical Society.
Can I watch the eclipse online?
There are a number of options to watch a stream of the eclipse.
NASA will start its video coverage on YouTube at 5 a.m. Eastern time, although the agency says that the view will be dark until 5:47 a.m. That video player is embedded above.
Other websites, including Timeanddate.com and Virtual Telescope, will also provide streams from a variety of locations, also starting at 5 a.m.
Cloudy prospects in New York.
Early on Wednesday, Mr. Kentrianakis arrived at a Greece, N.Y., inn near the shores of Lake Ontario. A lifelong eclipse chaser, Mr. Kentrianakis had originally helped to organize an event for an eclipse watch on Randalls Island in New York City. But clouds in the forecast motivated him to make a seven-hour drive in search of fairer skies upstate.
At sunrise on Thursday, he hopes to watch the tips of shrouded sun emerge above Lake Ontario.
"Like devil's horns." Mr. Kentrianakis said. "They may even wiggle up like a snake."
Back in Manhattan, Katherine Troche of the Amateur Astronomers Association of New York will watch and livestream the solar eclipse with a group of people on one of the top floors of a 1,400-foot skyscraper in Midtown.
Thursday will be Ms. Troche's second-ever solar eclipse. But she's also looking forward to watching her fellow eclipse watchers.
"The look on people's faces is absolutely, 1,000 percent worth it," she said.
With tomorrow's potentially cloudy forecast, Ms. Troche, who lives in Elmhurst, Queens, has spent most of her evening refreshing her various weather apps.
"Fingers really crossed," she said. "But even partially cloudy means partially clear."
The forecast also may not stop 25 early risers from heading to the observation deck of the Empire State Building. To catch a glimpse of the eclipse from 1,050 feet above Manhattan, the attendees have paid $114.81, almost triple the usual $42 entrance fee.
Guests will be provided with eclipse glasses and can buy coffee from the on-site Starbucks for 90 cents, a nod to the Empire State Building's upcoming 90th birthday.
— Sabrina Imbler and Claire Fahy
'Something we can share apart' in Canada.
The path of annularity in Canada will travel through many places that would have been complicated to visit in normal times. Covid-19 restrictions make that even more difficult, and large groups are not advised to travel and gather in Ontario and Québec.
"We're just encouraging people to safely view it as individuals and in their social bubbles," and to remain at home or in a safe place, said Mike Reid, public outreach coordinator for the Dunlap Institute for Astronomy & Astrophysics at the University of Toronto.
While these requirements are a stark contrast to the situation in 2017, when huge crowds gathered across North America to watch the total solar eclipse, Dr. Reid said there was a silver lining: The pandemic prompted the institute and colleagues at Discover the Universe, an astronomy training program based in Quebec, to ship 20,000 eclipse viewers to people in and around the eclipse's path, including in Nunavut, a Canadian territory whose population is primarily Inuit.
"Because they are in quite remote locations, we wanted to make sure they would have the material to observe it," said Julie Bolduc-Duval, executive director of Discover the Universe.
Dr. Reid added, "We're in circumstances, in this pandemic, where everyone is forced to stay at home, but it actually helped bring everyone together on this one particular thing."
Sudbury, Ontario, is outside the path of annularity but will still experience an 85 percent eclipse of the sun. Olathe MacIntyre, staff scientist at Space Place and the Planetarium at Science North, a museum there, plans to contribute to a livestream of the eclipse on Thursday.
"It's something we can share apart," Dr. MacIntyre said.
— Becky Ferreira
Preparing for the eclipse in Greenland and Russia.
Pat Smith works in Greenland for Polar Field Services, a company contracted by the National Science Foundation that helps scientists and others plan expeditions in remote parts of the Arctic. Mr. Smith plans to view the eclipse at a site near Thule Air Base, the northernmost American military base, which is about 700 miles from the Arctic Circle.
The site, North Mountain, is within the path of the annular eclipse, which will last for nearly four minutes there, and viewing conditions are expected to be clear. Mr. Smith plans to take photographs during the event.
In Russia, the eclipse will be visible in full only in some of the vast country's most remote regions to the east, closer to Alaska than to Moscow.
Nevertheless, the Moscow Planetarium plans to set up telescopes allowing residents of the capital to witness the event, although the sun there is expected to be only about 15 percent obscured.
The planetarium in Novosibirsk, the most-populous city in Siberia, will also host a viewing. A local news website in the city reminded residents to protect their eyes if looking at the sun.
— Becky Ferreira and Alina Lobzina
Now boarding: Eclipse Air.
Jay Pasachoff, an astronomer at Williams College, has chased eclipses all over the world and wasn't planning to miss this one.
He, his wife, Naomi, and another 30 or so people are booked on a three-hour Delta flight out of Minneapolis into the darkness and back. The trip is sponsored by Sky and Telescope magazine and led by Kelly Beatty, a senior editor of the magazine.
Seats on the plane went for up to $3,100 according to a price list.
In addition to checking out a new camera, Dr. Pasachoff said, he will be practicing for a similar eclipse flight on Dec. 4 out of Punta Arenas, Chile, to see a total solar eclipse over Antarctica.
"The event will also be nostalgic," Dr. Pasachoff said. "For I viewed my first solar eclipse" — a total — "at sunrise from an aircraft aloft off the coast of Massachusetts when I was a freshman at Harvard 61 years ago."
— Dennis Overbye
Source: Read Full Article