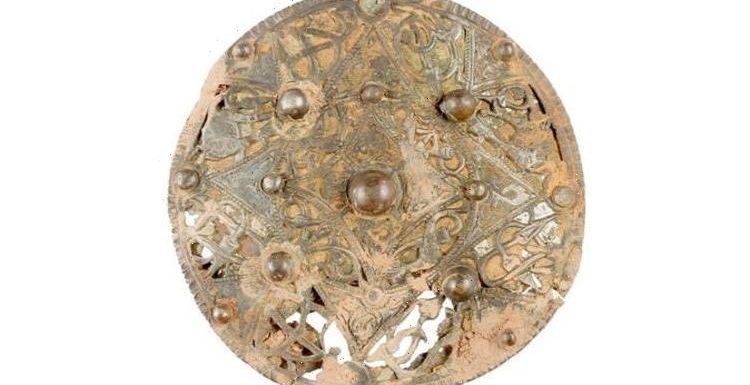 HS2 archaeologists uncover 16th century Medieval gardens
We use your sign-up to provide content in ways you've consented to and to improve our understanding of you. This may include adverts from us and 3rd parties based on our understanding. You can unsubscribe at any time. More info
The silver artefact was discovered last year by detectorist Iain Sansome while exploring a plot of farmland in Cheddar, Somerset. An inquest held at Taunton Coroner's Court has now identified the Trewhiddle-style brooch as treasure, though its value is yet to be determined. Fashioned from silver and copper alloy, the Cheddar brooch has been dated to the ninth century, sometime between the years 800 and 900 AD.
According to the Portable Antiquities Scheme (PAS), the brooch is an exquisitely decorated but damaged and incomplete artefact.
Although the front plate has survived more than 1,000 years in the soil, the back pin is missing and has not been found.
There is also some damage to the rusted copper elements and it was most likely lost or tossed away into water rather than buried.
However, the antique experts expect to uncover more detail in the front plate after conservation and cleaning works conclude.
The front plate appears to be decorated with animal themes, featuring a peacock-like bird and some form of "S-shaped beast with two feathered wings".
Peacocks are frequently featured in all manners of medieval art and are said to have symbolised eternal life in heaven.
The PAS said on its website: "The two designs are similar in that the tapering tail and wings appear reminiscent of one another, but the link between the tail and body is far clearer in the latter example.
"The second beast's face is also far more reptilian, with an open maw and no frill, although an eye is clearly visible."
Mr Sansome thinks he was incredibly lucky to chance upon the Early Medieval artefact.
Essex: Archaeologists discover Anglo-Saxon tomb in Prittlewell
He said: "I've found a lot of important historical items in the few years I've been detecting, and have covered a lot of ground, but this find is in a different league.
"When I first saw the brooch I wasn't exactly sure what it was but I knew it was something special and stopped detecting immediately.
"It's a very rare find and the fact that the last person to handle it was probably someone of extreme importance and high status over 1,000 years ago is just incredible. It really does make one wonder"
Upon its discovery, he immediately contacted the PAS, allowing archaeologists to properly investigate and excavate the site.
South West Heritage commended Mr Sansome for his actions, although no additional treasures were discovered at the Cheddar farm.
The brooch measures about 91mm in diameter, 1.93mm in thickness and weighs about 76.12g.
According to Dr Lucy Shipley of the PAS, archaeologists rarely discover Early Medieval brooches in Somerset.
Roman brooches are much more commonly found in this part of England.
Dr Shipley said: "Such items were important symbols of wealth and high status and may have been given as gifts to cement relationships between powerful individuals, including those with religious roles.
"The fact that no further significant objects were found suggests that the brooch was lost or discarded into water, rather than deliberately buried."
Brooches of this kind are referred to as Trewhiddle brooches, named after a site in Cornwall where they were first found.
One of the most significant discoveries of six Trewhiddle brooches was made in Norfolk in the late Seventies.
You can now see the brooches on display at the British Museum in London.
South West Heritage said: "Finding such a brooch in Somerset is both exciting and exceptional."
Source: Read Full Article