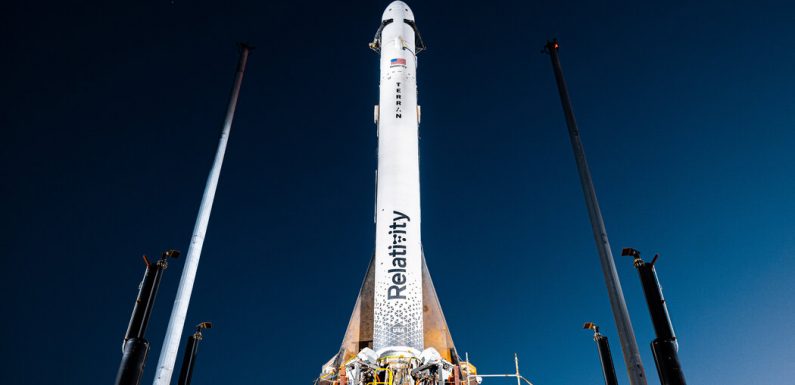 Get ready for some roaring new rockets in March.
As many as three launchers that have never traveled to space could try to reach orbit in the coming month.
Relativity Space, an American company, may be the first to fly. Its Terran 1 rocket is scheduled to lift off as early as March 8 from Cape Canaveral, Fla. Relativity's rocket is made mostly with 3-D printing and uses liquid oxygen and liquid methane as propellants. The mission, called "GLHF," for "Good Luck, Have Fun," is for test purposes and will not fly any satellites to orbit. Relativity is working toward building another rocket that is fully reusable and is collaborating with another company, Impulse Space, on a mission aiming to beat Elon Musk's SpaceX to Mars.
A rocket from Japan, H3, may also head to space carrying a satellite that will take images of Earth. The rocket, which will replace an earlier Japanese vehicle, was scheduled to fly in February. But a launch attempt was thwarted on Feb. 17 when the rocket's side boosters failed to ignite as planned. Officials with JAXA, Japan's space agency, say the rocket was not damaged and that they will attempt to launch it again by March 10.
The month's biggest flight could be SpaceX's Starship, a massive silver-colored spacecraft and rocket booster that is central to Mr. Musk's goal of sending humans to Mars. A version of the vehicle will also be used by NASA to put astronauts on the moon. An orbital test flight would launch Starship from South Texas to a splashdown near Hawaii.
During a test fire on Feb. 9, 31 of the booster's 33 engines ignited, which Mr. Musk said was enough for the rocket to get to orbit. SpaceX, however, has not yet confirmed that the spacecraft is ready to launch, and regulators at the Federal Aviation Administration will also need to decide that the rocket is approved to fly.
For casual observers, March offers only a couple of major astronomical highlights.
Venus and Jupiter are hundreds of millions of miles apart in the solar system, but sky gazers on Earth may enjoy the bright worlds' close approach at night early in the month, especially on Wednesday.
Spring will also officially begin late in the afternoon on March 20. Seen from space, the equinox defines a moment when there are nearly equal amounts of day and night on Earth.
Source: Read Full Article