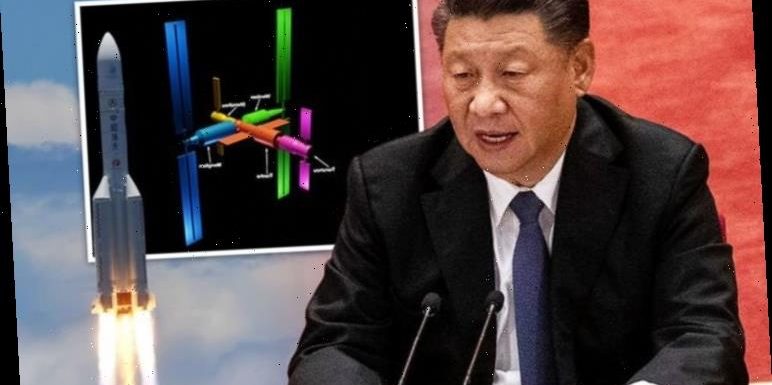 China: Satellite images show activity near India border
When you subscribe we will use the information you provide to send you these newsletters.Sometimes they'll include recommendations for other related newsletters or services we offer.Our Privacy Notice explains more about how we use your data, and your rights.You can unsubscribe at any time.
China's new space station is expected to have a shelf life of at least 15 years, meaning it could outlive the International Space Station (ISS). The ISS turned 20 just three years ago and in November last year, the space station celebrated 20 years of continuous human occupation. But the space station's time is running out and once the ISS is decommissioned – possibly after 2028 – China's first orbiting station could dominate low-Earth orbit (LEO).
China announced on Thursday, March 4, 12 astronauts have already begun their training for four crewed missions.
The China National Space Administration (CNSA) also said the space station's core module could launch as soon as April.
The module, named Tianhe, will provide the space station's power, navigation and life support systems.
It will also come equipped with living quarters for up to three astronauts at a time.
For comparison, the ISS hosts up to six astronauts on six-month-long missions on average, although larger crews have stayed their occasionally.
In terms of space, the US space agency NASA has compared the ISS to a six-bedroom house with six sleeping quarters, two bathrooms and even a gym.
Similarly to the ISS, China's core module will allow other parts and scientific instruments to be launched and attached at future dates.
But the space station will be considerably smaller than the ISS – about one-fifth of the mass.
Comet NEOWISE spotted from International Space Station
China's station will be comparable in size to the Soviet Union's decommissioned Mir Station, which stayed in LEO between 1986 and 2001.
It is worth noting, however, the ISS is the product of an international collaboration of which China was not a part.
The ISS was built through the combined effort and financing of NASA, Russia, the European Space Agency, Canada and Japan – a total of 15 countries involved in its launch.
NASA said: "Launched in 1998 and involving the US, Russia, Canada, Japan, and the participating countries of the European Space Agency — the International Space Station is one of the most ambitious international collaborations ever attempted."
China's efforts to become a major player in space have become clearly evident in recent months.
DON'T MISS…
Space wars: UK urged to ramp up galactic defence to counter China [INSIGHT]
Giant flash of light caused M5 power outage a day after meteor [VIDEO]
UFO sighting: NFL star Baker Mayfield claims he saw UFO over Texas [REPORT]
Only last month did the nation's Tianwen-1 mission enter orbit around Mars, just one day after the UAE's Hope probe reached the Red Planet.
On February 10, China became only the sixth nation to put a spacecraft into Mars orbit.
But this is not the only exclusive club China is a member of.
China became the second country after the US to plant a flag on the Moon wit its Chang'e-5 lunar lander.
All of this points to China being hell-bent on becoming a new space power, according to one expert.
Steffi Paladini, a reader in Economics and Global Security at Birmingham City University, China aims to become a major player in space – a role that has been dominated by the US and Russia for many years.
She said: "China has already enacted five-year plans for its space activities, the latest of which ended in 2020 with more than 140 launches.
"More missions are planned: a new orbital space station, the retrieval of martian samples and a Jupiter exploratory mission among them."
A 2019 report by the US Economic and Security Review Commission also stated China is looking to "become an international leader in space, or what it terms a 'space power in all respects'."
Source: Read Full Article