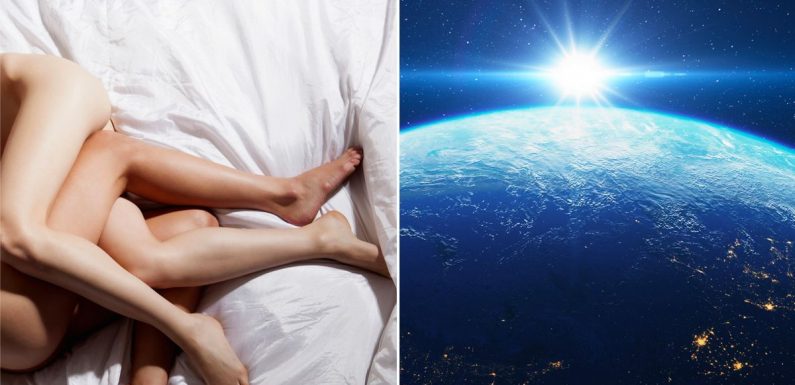 Space tourists will be able to join the 68-mile high club – by romping in orbit.
When commercial flights take off later this year there will be nothing to stop randy couples whipping off their spacesuits for some out-of-this-world nookie, according to former NASA astronaut Jose Hernandez.
He said sex in orbit was neither illegal nor physically impossible.
READ MORE: Can you have sex in space? Gravity, mutations and NASA's 'secret experiments'
Jose, 60, who joined the US space agency in 2001, said: "From the physical aspect of course you can have physical sexual relations in space…everything is possible. But when we go we are going for a limited time," he said. "There's no rule.
"If there is a single man and a single woman and they get together and have sex in space so be it," Jose added.
But Jose, who took part in the 2009 STS-128 Space Shuttle mission to the International Space Station and became the first person use Spanish in orbit in a tweet, debunked myth that a lack of gravity makes people more randy.
"Gravity doesn't affect anything," he said. "It is down to the body in terms of its sexual desire.''
'Bubbling saliva' and exploding lungs: what happens to your body if you die in space
Places on commercial space flights are currently being sold at £370,000 a ticket.
Most will take around two hours to reach 68 miles high – six miles above where space officially starts.
That will allow passengers to experience weightlessness and fly around the inside of the spacecraft.
Pierre Kohler, a respected French scientific writer, claimed in his book The Final Mission: Mir, The Human Adventure that a couple had already had sex in orbit as long ago as 1996.
He wrote: "The issue of sex in space is a serious one.
"The experiments carried out so far relate to missions planned for married couples on the future International Space Station, the successor to Mir.
"Scientists need to know how far sexual relations are possible without gravity."
Elon Musk says first Mars colonists will probably die but 'it will be glorious'
According to Kohler, NASA launched a secret project codenamed STS-XX to explore which sex positions might be possible in microgravity.
Scientists used computer models to work out how a couple might successfully have sex when every movement could send them spinning across the space capsule. Various different positions were considered.
"Two guinea pigs then tested them in real zero-gravity conditions," wrote Kohler.
"The results were videotaped but are considered so sensitive that even Nasa was only given a censored version."
However, Kohler's account has been rejected by NASA, who insist that no such experiment has ever taken place.
For the latest breaking news and stories from across the globe from the Daily Star, sign up for our newsletter by clicking here.
READ NEXT:
Humanity finding 'alien signal' could start World War Three on earth, scientists warn
Alien life on other planets may be found soon – but NASA fears 'it'll be misunderstood'
Roswell witness 'saw stinking humanoids with shark skin and no genitals' at crash site
If an alien invasion ever comes, we'll have no defence warns SETI expert
Source: Read Full Article