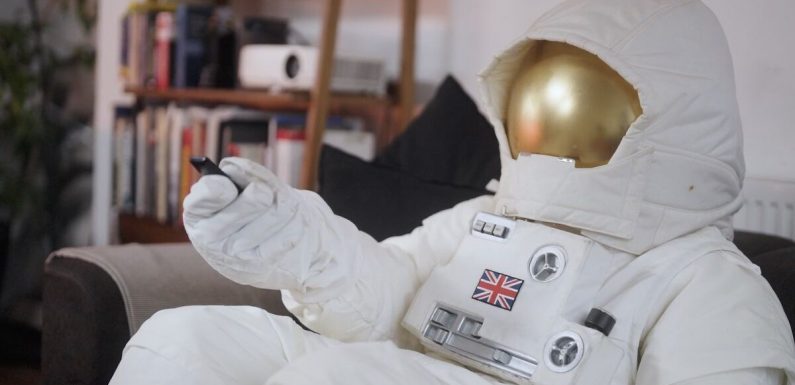 Watch the 'Thanks Space' film
British astronaut Tim Peake has put his support behind a new campaign designed to raise awareness of the benefits of space technology to the UK. The advert from UKspace, the official trade association of the UK space industry, features an astronaut in a space suit using a smartphone, farming and practising medicine — all undertakings that have been heavily supported by space-related technologies.
The campaign was developed after research found that the public's perception of space has been shaped less by its economic role than popular culture.
In fact, 21 percent of the UK public associate space with "aliens", 14 percent with "science fiction" and 10 percent with "Star Wars" — with only 8 percent recognising its role in communications and connectivity.
UKspace president Dr Alice Bunn said: "Space is the invisible thread of our everyday lives, but so many of us are unaware of its impact on the UK.
"In so many ways, all of us are impacted by the technological developments to modern life.
"Through our new campaign, we are highlighting just how important space is to all of us, and how the investment we see in locations across the UK will continue to support local communities, lives, jobs and innovation.
"The UK is home to a thriving satellite manufacturing industry and is on track to become the first country in Europe to offer commercial launch services to small satellite manufacturers — from a range of spaceports offering both horizontal and vertical rocket launch capabilities."
Space, Dr Bunn said, "supports highly skilled jobs, fuels technology advancements and create business opportunities that feed back into the economy.
"This, in turn, grows the pool of public money that can be spent on solving the world's most pressing problems.
"As we move forward, the UK is set to be in an even stronger position to escalate our space capabilities."
In fact, the UK Space Agency has reported that the space sector currently brings around £17.5billion to the UK economy annually — an increase of £1billion in a year, outpacing the 1.6 percent average growth of the global space industry.
At present it is estimated that the space industry in the UK supports nearly 48,800 jobs directly and an additional 26.800 roles via supply chains.
With ongoing investment, the UK Space Agency has forecast that an additional 30,000 space jobs could be created over the next decade — with benefits to the UK as a whole.
Employment in the space industry has seen the largest growth in the east and north west of England , while the east of England, West Midlands and Wales has seen the highest proportional growth in space sector income.
Northern Ireland, the North East of England, and Yorkshire and the Humber, meanwhile, have experienced the biggest proportional increase in the number of space organisations.
DON'T MISS:
Ukraine war pushing dangerous diseases to 'alarming levels' in Kharkiv[INSIGHT]
Strange space material discovered after lightning bolt struck tree[ANALYSIS]
Cow gives birth to two-headed calf in one-in-2,500 mutation[REPORT]
Major Peake said: "Space isn't just about adventure and discovery."
Instead, he explained, it is also "about developing space-based technology to deliver value in all our lives — and improving life on Earth.
"I'm extremely privileged to have experienced space and know what an incredibly valuable tool it can be to inspire the next generation of scientists, engineers, environmentalists, educators, security experts, and many more."
Space, he concluded, can also "help develop new technologies and solutions for global challenges, and enhance our understanding of the universe and our place in it."
More information on the campaign can be found on the UKspace website.
Source: Read Full Article