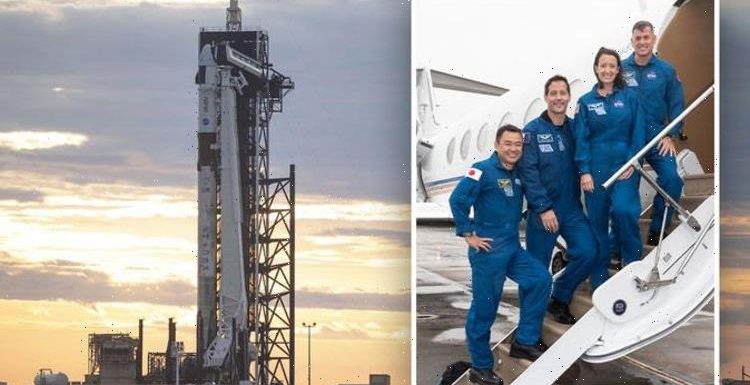 SpaceX tease Falcon 9 and Dragon ahead of flights
When you subscribe we will use the information you provide to send you these newsletters. Sometimes they'll include recommendations for other related newsletters or services we offer. Our Privacy Notice explains more about how we use your data, and your rights. You can unsubscribe at any time.
SpaceX and NASA have partnered for the second operational flight of the SpaceX Crew Dragon spacecraft this week. To date, the sleek and stylish capsule has only flown to the ISS on three occasions, two of which were test flights. This week's mission has been officially dubbed SpaceX Crew-2 and will see four astronauts from across the globe launch to the orbital laboratory.
Weather permitting, the launch is pencilled in for Friday, April 23, from the historic Cape Kennedy coast in Florida.
Launching on behalf of NASA, SpaceX will fly US astronauts Shane Kimbrough and Megan McArthur.
They will be joined by Akihiko Hoshide of the Japan Aerospace Exploration Agency (JAXA) and Thomas Pesquet from the European Space Agency (ESA).
Together, the astronauts will form the crew of ISS Expedition 65.
What time is the SpaceX Crew-2 launch this week?
The launch was originally pencilled in for Thursday, April 23, but was scrubbed due to poor weather.
The next launch window opens early on Friday morning, Florida time.
SpaceX and NASA are targetting 10.49am BST (5.49am EDT) for liftoff at the Kennedy Space Center.
If all goes according to plan, the four astronauts will blast off aboard the Crew Dragon Endeavour, strapped to SpaceX's iconic Falcon 9 rocket.
As of Wednesday, April 21, there is a 90 percent chance of favourable weather conditions.
NASA's Linda Herridge said: "Conditions also are expected to improve along the flight path and recovery area for the mission.
"The primary weather concerns for the launch area will be liftoff winds."
You will be able to follow the launch here on Express.co.uk, courtesy of SpaceX and NASA.
SpaceX will host a live broadcast on its website and YouTube account, and NASA will closely follow the mission on its round-the-clock education streaming on NASA TV.
After launching from Florida, the Crew-2 astronauts are expected to dock with the ISS by 10.10am BST (5.10am EDT) the following morning.
Just four days later, the astronauts of Crew-1, which launched last November, will make their thrilling ride back to Earth.
Th Crew-1 astronauts are NASA's Michael Hopkins, Victor Glover, and Shannon Walker, as well as JAXA's Soichi Noguchi.
The astronauts are expected to land just off the coast of Florida just seven hours later, after spending 164 days in microgravity.
However, NASA noted: "Their return date and time are dependent on having a healthy spacecraft and favourable weather in the selected splashdown zone."
Even more excitingly, the particular Crew Dragon that will launch to space this Friday, has been used by SpaceX on two previous missions.
The capsule first flew to the ISS on the Demo-1 mission, which was an uncrewed test flight of the spacecraft's capabilities.
The same capsule then launched on Demo-2 with a two-man crew of NASA astronauts Bob Behnken and Doug Hurley.
The astronauts christened the spacecraft Endeavour after the Space Shuttle Endeavour, on which they both flew.
Just like the Falcon 9 rocket, Crew Dragon was designed to be fully reusable.
Source: Read Full Article