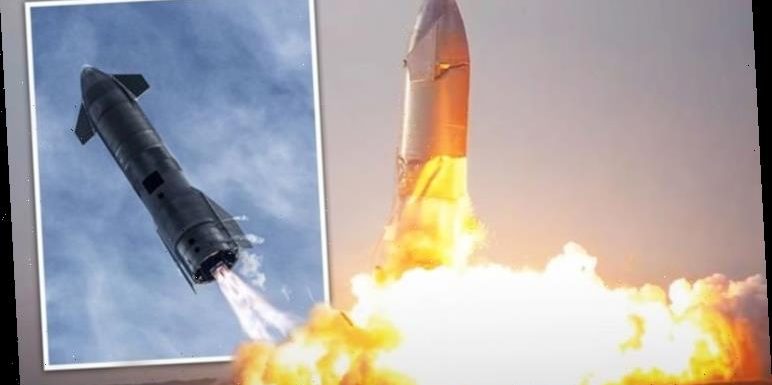 SpaceX: Starship SN10 successfully lands in Texas
When you subscribe we will use the information you provide to send you these newsletters.Sometimes they'll include recommendations for other related newsletters or services we offer.Our Privacy Notice explains more about how we use your data, and your rights.You can unsubscribe at any time.
At first glance, SpaceX aced the launch and landing of its first Starship prototype last Wednesday, March 3. The 164ft-tall rocket blasted off from Boca Chica, South Texas, to an altitude of 32,000ft (10km) after which it touched down back on the launch pad in one piece. But as SpaceX fans worldwide rejoiced in the historic moment, unbeknownst to all, disaster was brewing inside of the rocket.
Just eight minutes after Serial Number 10 (SN10) touched down, an apparent methane leak ignited and launched the rocket back into the air.
As flames engulfed the launch pad, the SN10's scorched carcass came crashing to the ground.
SpaceX said in the aftermath of the disaster: "As if the flight test was not exciting enough, SN10 experienced a rapid unscheduled disassembly shortly after landing."
Elon Musk has now taken to Twitter to shed new light on the disaster, confirming what many people suspected: SN10's legs gave out at the final hurdle due to the rocket coming in too hot.
A close look at SpaceX's feed of the landing shows SN10 came in fairly fast and hit the ground harder than intended.
The company has been fairly quiet about what caused the explosion, leading fans to speculate about the blast.
One SpaceX fan said: "SN10 had thrust issues on landing. The 'good' landings will have much less force acted upon the legs.
"SN10 basically slam dunked into the ground, even bouncing."
Another person said: "I am not so sure that those legs can withstand the weight even when properly deployed.
"I also think the landing speed was a bit too high which didn't help. What was SN10's main problem?"
Mr Musk then shared the new revelations about SN10's explosion after photographer Austin Barnard snapped a group of SpaceX employees testing the Starship SN11's landing legs.
He tweeted: "Testing them, so unlike during the SN10 flight; they will hopefully deploy properly this time."
Mr Musk then joined the conversation, revealing the landing legs were effectively crushed upon impact.
He said: "SN10 was low on thrust due (probably) to partial helium ingestion from fuel header tank.
DON'T MISS…
NASA Mars mission: Perseverance rover begins first movements [REPORT]
Alien world discovered: Nearby 'super Earth' could be 'Rosetta Stone' [STUDY]
EU's Galileo blow: OneWeb could launch 'more effectively' from UK [INSIGHT]
Elon Musk discusses future of SpaceX's Starship system
"Impact of 10m/s crushed legs and part of skirt."
SpaceX fans will be glad to learn "multiple fixes" are in the work for the first flight of the Starship SN11.
However, Chris Bergin, the managing editor of NASASpaceFlight, said solving the helium ingestion will be a tricky issue to sort out.
He tweeted: "This is a tricky one given that I believe said helium pressurization was added to the CH4 header tank to mitigate what happened with SN8.
"That's why it's a test program, of course."
Mr Musk replied: "Fair point. If autogenous pressurization had been used, CH4 bubbles would most likely have reverted to liquid.
"Helium in header was used to prevent ullage collapse from slosh, which happened in prior flight.
"My fault for approving. Sounded good at the time."
SpaceX fans are now looking forward to the first test flight of the Starship SN11.
Source: Read Full Article