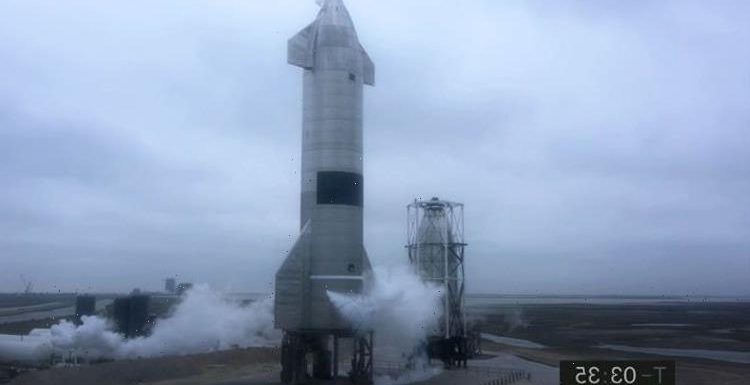 SpaceX launches Starship with first successful landing
When you subscribe we will use the information you provide to send you these newsletters. Sometimes they'll include recommendations for other related newsletters or services we offer. Our Privacy Notice explains more about how we use your data, and your rights. You can unsubscribe at any time.
Starship SN15 blasted off from Boca Chica in South Texas on Wednesday evening (UK time), soaring high on its three Raptor engines. After reaching an altitude of some 32,000ft (10km), the SpaceX rocket dived right back down, falling towards the ground with its belly-side down. Then, less than six minutes after liftoff, the rocket's engines kicked in again and the spacecraft performed a soft landing that has so far eluded Elon Musk and co.
SpaceX's fans who were glued to their computer screens during the flight rejoiced and celebrated SpaceX's success.
One Twitter user said: "Congratulations to Elon, SpaceX, and the Starship team in Boca Chica for an absolutely astonishing, Landing of Starship Serial Number-15.
"Amazing work and I am thrilled about the direction of this programme."
Another person said: "SpaceX has come a long way in the past two decades, 19 years since the company was founded on May 6, 2002.
"Congrats to @elonmusk! And everyone who works at @SpaceX!!!, with the cherry on the Space Cake being the Starship SN15 landing! This is the way."
Others spoke about shedding tears of joy while others claimed they knew SN15 would ace the flight because 15 is their lucky number.
So far, testing has been less than ideal, with the last four Starship prototypes being blown to smithereens.
But with the test flight out of the way, some fans are already wondering about the next Starship in line, the SN16.
One person said: "#SpaceX we are waiting for Starship SN16 rollout."
The US Federal Aviation Administration (FAA) recently revealed it had pre-approved the next three Starship launches, suggesting SpaceX will not have a chance to rest on its laurels just yet.
SpaceX Starship explodes on landing during a test
How soon could the Starship SN16 launch?
SpaceX's development of the Mars rocket has been somewhat shrouded in mystery, with multiple launch delays, scrubs and clashes with authorities.
The aerospace company rarely acknowledges plans to launch one of its prototypes with fans having to rely on official road closures around Boca Chica and FAA flight restrictions for clues.
At most, fans might see Elon Musk tweet about a test flight a few days before liftoff – but there is no guarantee these plans will materialise.
The SN15, for instance, was expected to take flight in April and not May.
But even if the company has not announced a launch date for the SN16 just yet, fans will likely have to wait a month at the very least.
Starting with the scaled-down Starhopper craft, SpaceX's prototypes have been launching once every two or three months.
SN8, for example, launched on December 9 and was followed by the SN9 on February 2.
The SN10 then followed on March 3 and was unusually quickly followed by the SN11 on March 30.
Fans then had to wait more than a month for the SN15 to launch on May 5.
In the grand scheme of things, however, this is a very fast-paced schedule of launches.
According to Mr Musk, this approach is key towards sending the rocket to Mars one day.
He tweeted on Thursday: "Only way to create rapidly and fully reusable orbital rockets, the fundamental technology revolution needed to make life multiplanetary."
Future tests of the Starship rocket are expected to go higher and be more intense.
And by the end of the year, Mr Musk wants to launch a Starship atop the Super Heavy booster into orbit.
Source: Read Full Article