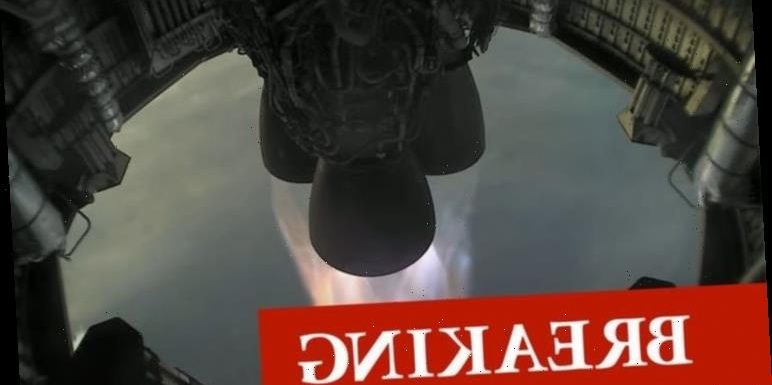 When you subscribe we will use the information you provide to send you these newsletters.Sometimes they'll include recommendations for other related newsletters or services we offer.Our Privacy Notice explains more about how we use your data, and your rights.You can unsubscribe at any time.
The prototype spacecraft launched from SpaceX's Boca Chica facility today at 2pm BST under a dense cover of fog. With a roar of its three Raptor engines, Starship SN11 flew to an altitude of 32,000ft (10km). About two minutes into the flight, the rocket killed its first engine and coasted to its altitude on just two Raptors.
About three-and-a-half minutes in, SN11 killed its third engine and the rocket carried on with just one Raptor.
At apogee – the highest point – the 164ft-tall spacecraft tipped over by 90 degrees and dropped to the ground with its belly-facing down.
SN11 then quickly plummeted to the ground and did not fire its engines until just before hitting the ground.
If all went according to plan, the rocket would have tipped upright and gently touched down on the launch pad.
Unfortunately, the spacecraft failed to stick the landing and SpaceX has confirmed the SN11 came crashing down.
Michael Baylor of NASASpaceflight tweeted: " Starship SN11 came down hard. Debris came flying past the @NASASpaceflight camera near the pad and even appeared to knock it a bit."
Because of the thick pad that covered the launch pad, the crash itself was not caught on camera.
Instead, a loud boom was heard across the NASASpaceflight live stream, which has been watching the SN11 since 12pm BST today.
SpaceX's official stream of the launch also froze and cut out while the rocket was in the air, leaving many fans to guess what was happening.
Chris Bergin, the managing editor of NASASpaceflight, tweeted: "Ended in a RUD. Remember, it's a test programme and they've gained a lot of wins from the four flights.
"Stable controlled descent is one, but long-duration Raptor performance deserves a shoutout."
SN11 now joins the ranks of SN8, SN9 and SN10, all of which were blown to smithereens at the South Texas facility.
The launch marked only the fourth time a Starship prototype launched from Boca Chica on a suborbital flight.
Today's launch was originally pencilled in to blast off on Friday, March 26, but the test flight was pushed back to Mondays.
SpaceX fans were then frustrated to learn Monday's launch was also scrubbed.
Due to revisions made to SpaceX's launch license, the US Federal Aviation Administration requires a safety inspector to be present at every launch.
This is a breaking story. Refresh the page to see more.
Source: Read Full Article