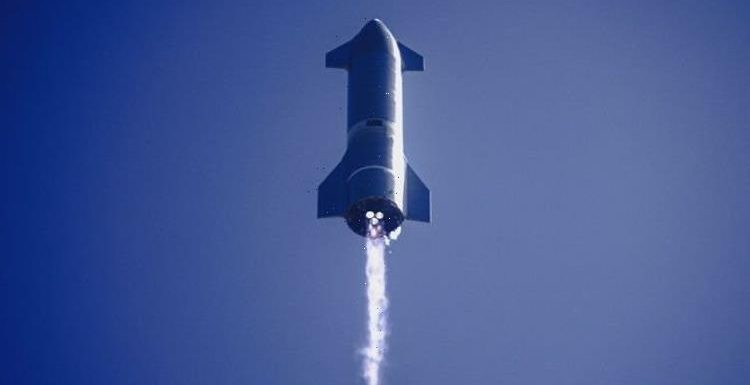 SpaceX: Camera feed freezes upon Starship SN11 landing
When you subscribe we will use the information you provide to send you these newsletters. Sometimes they'll include recommendations for other related newsletters or services we offer. Our Privacy Notice explains more about how we use your data, and your rights. You can unsubscribe at any time.
Elon Musk and co will send the Starship SN15 on its maiden voyage after the catastrophic launch of the SN11 model last month. SpaceX is prepping the next-gen rocket to carry humans to Mars one day but with four failed flight already under the company's belt, Starship has so far failed to impress. But hopes are high for SN15's first flight as Mr Musk has promised this iteration of the stainless-steel rocket and is a major improvement on its predecessors.
Mr Musk teased on Tuesday the rocket would fly at some point this week when he tweeted: "Starship SN15 static fire completed, preparing for flight later this week."
SpaceX fans have been desperate to see the rocket in action and their wish may finally come true today.
Cameron County officials have ordered the roads around SpaceX's Starship facility in Boca Chica, South Texas, to be closed.
The closures indicate a launch is imminent, although poor weather and technical problems could still scupper SpaceX's plans.
The primary closures are pencilled in for Thursday afternoon, with a backup window on Friday.
Cameron County Judge Eddie Trevino Jr said: "Should SpaceX not complete its planned space flight activities on April 29, 2021, then SpaceX may use the alternate date to complete its test launch activities."
The key goal of shutting down all roads around Boca Chica is to minimise the threat to public safety.
And with four launch explosions at the site since December last year, there is a good reason to be wary.
The closure notice stated: "SpaceX and law enforcement authorities will be coordinating to ensure no individuals or vehicles are allowed access to these areas during these times of the day."
SpaceX Starship explodes on landing during a test
SpaceX's launch window will open at 6pm and close at 2am BST (12pm to 8pm CDT).
Tomorrow's backup will be open from 2pm to 11pm BST (8am to 5pm CDT).
During the test flight, Starship will launch up to an altitude of at least 32,000ft (10km) using nothing but its three Raptor engines.
The rocket will then tip over and fall back to the ground, belly-side down.
Just moments before hitting the launch pad, Starship will flip upright again and fire its engines for a soft-landing attempt.
So far, SpaceX has failed to stick the landing with the SN8, SN9, SN10 and SN11 prototypes.
SN10 came close to acing the flight as it did land in one piece – almost – suffered a great deal of damage in the process.
The rocket's legs were damaged and left the SN10 standing lopsided on the launch pad.
A methane leak from the rocket also ignited just eight minutes after touchdown and the spacecraft blew up into a spectacular ball of flames.
The SN11 followed soon after but a fire in its engine bay fried some of the internal avionics, leading to another crash landing.
However, whether or not Starship flies today, also depends on the US Federal Aviation Administration (FAA).
The FAA issues temporary flight restrictions (TFRs) for the airspace around Boca Chica that allow SpaceX to launch.
There does not appear to be TFR scheduled for Thursday but there is one in place for Friday.
The restrictions are in place between 1pm BST on Friday and 2am on Saturday.
Source: Read Full Article