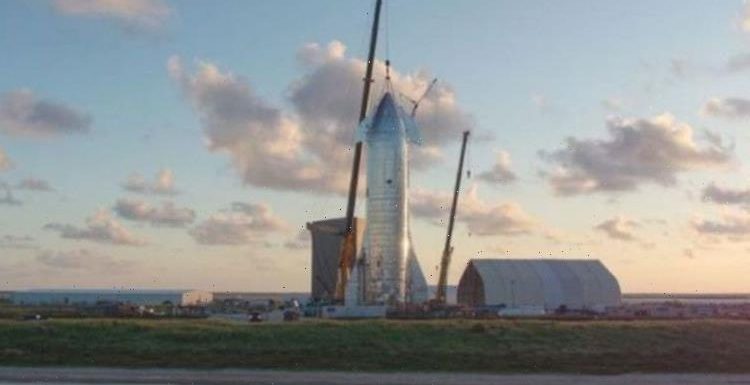 SpaceX: Starship SN10's Raptor engines cause static fire
When you subscribe we will use the information you provide to send you these newsletters. Sometimes they'll include recommendations for other related newsletters or services we offer. Our Privacy Notice explains more about how we use your data, and your rights. You can unsubscribe at any time.
SpaceX fans from across the globe tuned in to live broadcasts of the Boca Chica testing range on April 30 as they eagerly anticipated the launch of the SN15. While SpaceX did not announce it would launch the SN15 yesterday, road closures and temporary flight restrictions (TFRs) had been issued by Cameron County – where Boca Chica is situated – gave a clue that a launch was imminent. However, as the day went on and the grey skies failed to clear, it became clear that Mr Musk and co would not be attempting a launch.
This became abundently evident when SpaceX cancelled the TFRs.
SpaceX does not announce when it will launch one of its prototypes, as it needs several things to fall in to place.
For example, weather conditions will always be a factor, but as the machines are prototypes, there is every chance they could need engineering work right up until lift-off.
However, there are always clues as to when the company is preparing to test a Starship rocket.
When will the SN15 launch?
The Cameron County website briefly announced TFRs for today, Saturday May 1.
However, this was swiftly removed from the site.
There is another TFR for tomorrow above the skies of Boca Chica, but there are no road closures announced.
Roads need to be closed in case of falling debris – something which SpaceX will be all too wary of after the SN11 exploded mid-air.
Cameron County rarely issues road closures on weekends, predominantly because people like to travel on their days off.
The next likely opportunity for SpaceX to attempt lift-off will come in the coming week.
However, at the time of writing, no road closures or TFRs have been issued for the week beginning May 3.
But these things develop quickly and SpaceX will be constantly monitoring the situation.
DON'T MISS
SpaceX Dragon docks with ISS in Elon Musk success
Musk says SpaceX can help NASA put humans back on the moon by 2024
Musk issues warning over Mars mission – 'people will probably die'
SpaceX will be desperate to land the SN15 after four failed attempts.
The SN8, SN9 and SN10 all made it to the ground but exploded on impact.
The SN11 was not so fortunate and began to explode while it was in the air.
SpaceX will likely want the SN15 to follow the same path as its predecessor.
This will see it cruise at an altitude of 10 kilometres for about eight minutes before it reaches the surface.
Source: Read Full Article