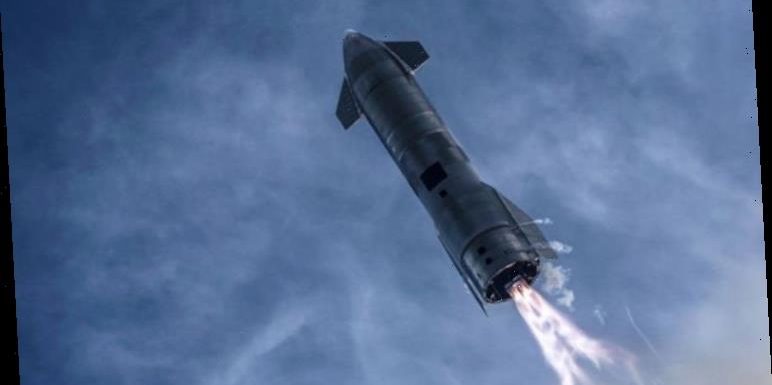 SpaceX: Starship SN10 successfully lands in Texas
When you subscribe we will use the information you provide to send you these newsletters.Sometimes they'll include recommendations for other related newsletters or services we offer.Our Privacy Notice explains more about how we use your data, and your rights.You can unsubscribe at any time.
SpaceX fans worldwide were disappointed to see the SN11's maiden flight scrubbed on Monday afternoon due to issues with the US Federal Aviation Administration (FAA). The FAA's launch license demands a safety inspector is present at the company's Boca Chica facility in South Texas for each flight. However, SpaceX chief Elon Musk announced on Twitter an inspector was unable to reach the site in time.
SN11's launch was originally pencilled in to go ahead on Friday, March 26, but was delayed pending "additional checkouts".
Fans are now hopeful the rocket that could one day fly humans to Mars will blast off from the Boca Chica launch pad today (March 30).
One person tweeted: "Launch Day #3 for #SN11 Let's hope we finally get to see this beauty fly!!!"
Another person said: "Avidly waiting to watch the launch of SN11, what a marvellous journey this has been so far for the SN."
Starship SN11 is only the fourth Starship prototype to attempt a launch and landing at Boca Chica.
The three previous iterations – SN8, SN9 and SN10 – were all blown to smithereens after performing a belly-flop landing manoeuvre.
Of the three, SN10 came incredibly close to nailing the landing but was damaged in the process.
Then, just eight minutes after touching down, a methane leak ignited and erupted into a ball of flames.
Elon Musk discusses future of SpaceX's Starship system
Will the Starship SN11 launch today?
After Monday's launch was scrubbed, Elon Musk told his more than 49.8 million followers the rocket will launch no earlier than Tuesday.
He tweeted: "FAA inspector unable to reach Starbase in time for launch today. Postponed to no earlier than tomorrow."
SpaceX's website was also updated to say the test flight will go ahead "as early as Tuesday, March 30".
SpaceX said: "Similar to previous high-altitude flight tests of Starship, SN11 will be powered through ascent by three Raptor engines, each shutting down in sequence prior to the vehicle reaching apogee – approximately 10km in altitude.
DON'T MISS…
SpaceX rocket booster creates ball of fire in the sky [VIDEO]
'Year of the UFO' Donald Trump ordered report into alien 'phenomena' [INSIGHT]
Elon Musk sparks debate with 'strongest argument' against aliens [REPORT]
"SN11 will perform a propellant transition to the internal header tanks, which hold landing propellant, before reorienting itself for reentry and a controlled aerodynamic descent."
Road closures around Boca Chica suggest the SN11 will launch sometime between 12pm to 8pm BST (7am to 3pm CDT).
Cameron County Judge Eddie Trevino Jr has ordered closures around the SpaceX facility to ensure public safety during planned "space flight activities".
Backup closures have also been ordered for Friday, April 2, should today's attempt be scrubbed for the third time.
Judge Trevino Jr said: "Should SpaceX not complete its planned space flight activities on March 30, 2021, then SpaceX may use the alternate date to complete its test launch activities."
FAA flight restrictions are also in place today, with a back up on Wednesday.
The restrictions cover the airspace around Boca Chica from the surface up to an "unlimited" altitude.
The FAA said: "No pilots may operate an aircraft in the areas covered by this NOTAM (except as described)."
Source: Read Full Article