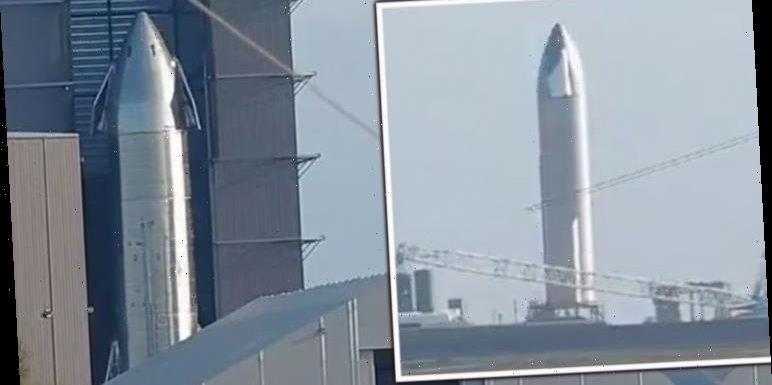 SpaceX: Simulation demonstrates 'Super Heavy' rocket landing
The SpaceX SN9 Starship prototype launch was controversially delayed past the originally planned January 28 date. The launch of the prototype's previous iteration, Starship SN8, violated the terms of SpaceX's Federal Aviation Administration (FAA) test license, leading to an official investigation and a possible explanation for the delay. However, there are strong indications Starship SN9 will attempt a second high-altitude suborbital flight test from SpaceX's Cameron County launch site.
The SpaceX SN9 Starship test will be powered in its ascent by a trio Raptor engines.
Each of these is then expected to shut-down in sequence as SN9 reaches apogee, roughly 6.2 miles (10km) up.
SN9 will then perform a propellant transition to the internal header tanks before the rocket reorientates for re-entry and a controlled descent.
Providing everything goes to plan, the SpaceX Starship prototype's control fall will be assisted by two pairs of forward and aft flaps on the vehicle.
All four flaps are controlled by an onboard flight to theoretically allow precision landing.
We will use your email address only for sending you newsletters. Please see our Privacy Notice for details of your data protection rights.
SpaceX Starship SN9's Raptor engines will then reignite as the vehicle attempts an elaborate landing flip manoeuvre prior to landing on the pad next to where it launched.
All three stages, in addition to in-space refilling, are considered critical to one day using Starship to explore the Moon, Mars and beyond.
This is because such alien worlds have neither prepared land pads or runways for returning to Earth.
This capability will allow a totally-reusable transportation system to ferry both crew and cargo on long-duration, interplanetary flights.
Will Starship SN9 launch this week?
The Federal Aviation Administration has issued Temporary Flight Restrictions (TFR) for Tuesday, Wednesday and Thursday this week, for the area surrounding SpaceX's Starship SN9 launch.
A TFR restriction on an area of airspace due to the movement of "unusual events" such as experimental rocket launches.
As ever, an online live stream of the flight test will start a few minutes prior to liftoff.
Because of the highly unpredictable nature of development testing, SpaceX fans should stay alert to the private space company's Twitter feed for updates in order to watch in real-time Starship's second high-altitude flight test.
The previous Starship rocket, SN8, was destroyed in an otherwise successful test launch in December last year.
DON'T MISS:
Discovery of 'disorderly' 6 planets 'remarkable clue to Solar System's formation' [INSIGHT]
Black hole discovery: Planets 3,000 times the size of Earth could form around black holes [ANALYSIS]
SpaceX Starship: Elon Musk reveals render of 'floating superheavy-class' oil rig platforms [INFO]
The self-guided rocket exploded into flames as it touched down on a landing pad following a controlled descent.
The test flight had been intended to reach an altitude of 41,000ft (7.7 miles), also powered by three of SpaceX's newly developed Raptor engines.
This resulted in the opening of an investigation, focusing on the explosive landing and on the Elon Musk-owned SpaceX's reported refusal to adhere to the terms authorised by the FAA.
And it may have been this that resulted in the SN9 test being scrubbed last week.
Although the FAA made no comment detailing exactly how SpaceX violated terms, it did announce SpaceX had applied to modify its license.
A spokesperson said: "The FAA will not compromise its responsibility to protect public safety.
"We will approve the modification only after we are satisfied that SpaceX has taken the necessary steps to comply with regulatory requirements."
However, controversial billionaire Elon Musk was clearly unhappy with the FAA's decision.
He tweeted on Friday, January 28: "Unlike its aircraft division, which is fine, the FAA space division has a fundamentally broken regulatory structure.
"Their rules are meant for a handful of expendable launches per year from a few government facilities. Under those rules, humanity will never get to Mars."
Source: Read Full Article