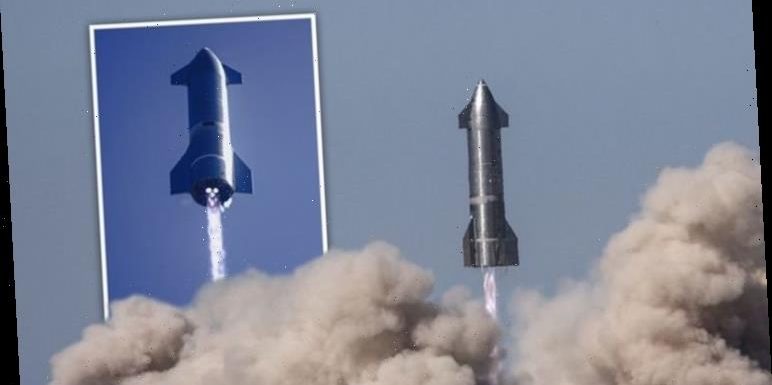 SpaceX Starship explodes on landing during a test
Starship SN10 is the successor to SpaceX's Starship SN9 and SN8, both of which crashed after their first high-altitude test flights. SN10 or Serial Number 10, rolled out onto the launch pad at SpaceX's Boca Chica facility in South Texas on January 29. Last week, the prototype rocket narrowly escaped with its life when the SN9 crashed into the launch pad and erupted into a ball of flames.
Starship SN9 launched on a 6.2 miles (10km) hop but failed to stick the landing after one of its three engines did not ignite.
As the rocket exploded, it was blown to smithereens dangerously close to the SN10.
Luckily for Elon Musk's fans worldwide, the rocket was unharmed and is now being prepared for its first stage of testing.
According to Boca Chica Village resident Mary, three Raptor engines have been installed on the rocket since last week.
We will use your email address only for sending you newsletters. Please see our Privacy Notice for details of your data protection rights.
Mary has also tweeted about planned road closures for Boca Chica on Monday, February 8, suggesting testing is imminent.
She said: "I have received an 'Alert' notice and there is a planned road closure between the hours of 9am and 6pm tomorrow February 8, 2021. Starship SN10 testing campaign is starting."
The closures are in effect today between 3pm and 12am GMT today.
The alert reads: "SpaceX will conduct Space Flight Activities on February 8, 2021 from 9am to 6pm.
"Approximately 10 minutes prior to the activity, you will be provided notice by the sounding of a police siren.
"There may be more than one instance during that time period where you will hear a siren notification."
The residents of Boca Chica are alerted before each rocket test due to the hazards they pose.
And when a Starship is due to launch, the residents are evacuated out of the potential blast zone.
According to the alert, there is a risk the Starship prototype could "create an overpressure event that can break windows".
DON'T MISS…
Elon Musk's Mars plan rocked over fears humans will 'self-extinguish' [INSIGHT]
UAE Mars mission live stream: How to watch Hope reach Mars' orbit [LIVE]
Elon Musk sparks bitcoin frenzy: Tesla puts $1.5BN in currency [REPORT]
SpaceX perform 150m hop with Starship SN5
Cameron County Judge Eddie Travino Jr has also issued road closure notices for Monday, Wednesday, Thursday and Friday.
However, it might still take a while before the SN10 takes to the skies.
SpaceX will conduct a series of prelaunch tests such as pumping the rocket full of pressurised, cryogenic liquids to test its integrity.
SpaceX will also likely carry out a number of static fire tests, which involve firing the rocket's engines while Starship is strapped to the ground.
All of these tests, SpaceX hopes, will pave the way towards sending humans to Mars.
SpaceX is developing Starship as a multi-planetary vehicle capable of reaching the Moon, Mars and beyond.
SpaceX said: "Starship will be the world's most powerful launch vehicle ever developed, with the ability to carry in excess of 100 metric tonnes to Earth orbit."
The stainless stell spacecraft will launch on top of the Super Heavy booster rocket, and both will be completely reusable.
SpaceX aims to build a fleet of Starships with the ability to launch each multiple times a day.
Source: Read Full Article