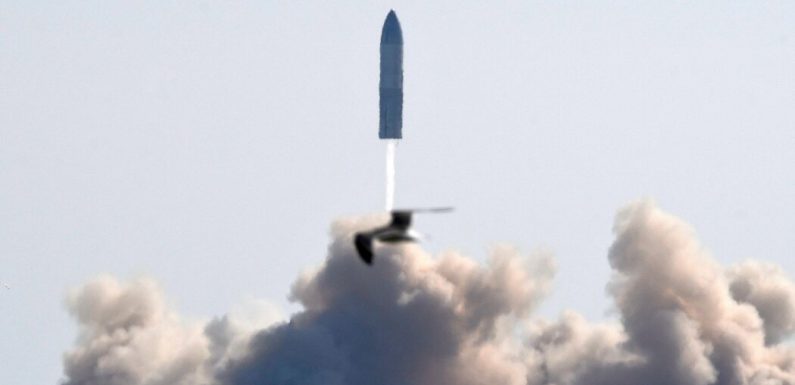 Two spectacular flights, two spectacular crash landings. Will the third time be the charm?
On Wednesday, SpaceX is preparing for another high-altitude flight of Starship, a huge next-generation spacecraft that Elon Musk, the founder and chief executive of the private rocket company, dreams of one day sending to Mars.
Designated SN10, the latest prototype has been sitting at the test site since earlier in the year, and will aim for an altitude of just over six miles high, well below the orbital heights that SpaceX one day intends to achieve. (That requires a powerful booster stage called Super Heavy that is still under development.)
The prototype appeared outwardly similar to the versions that launched in February and December. Both of those crashed as they tried to land at the test site, located in Boca Chica, Texas, a community near Brownsville.
"We've just got to work on that landing a little bit," said John Insprucker, a SpaceX engineer who hosted the webcast of the test in February.
transcript
SpaceX's Starship Crashes Again During Prototype Launch
A test flight of SpaceX's Starship, Elon Musk's next-generation spacecraft which is intended to one day land on Mars, was launched on Feb. 2 for a brief flight, but came to an explosive end.
Six minutes,10 seconds into flight We're down beneath one and a half kilometers. We're preparing to restart two engines, flip the vehicle vertical, then transition to one engine for the landing burn. [explosion]
Each flight, even one that concludes in a crash, provides additional data for SpaceX engineers as they work toward a version of the spacecraft that can achieve Earth orbit.
The most recent test, on Feb. 2, occurred after a skirmish between SpaceX and the Federal Aviation Administration, which regulates rocket launches. The F.A.A. said that the earlier December launch had occurred without the agency's approval. SpaceX had requested a waiver to conduct that flight even though it had not shown that a pressure wave that could be generated by an explosion during the test would not pose a danger to the public. The F.A.A. denied the request. SpaceX launched anyway.
After an investigation, the F.A.A. allowed SpaceX to go forward with the February launch. When that flight ended in another crash, the agency again asked for an investigation, which appears to have proceeded with less difficulty. The agency has granted approval for the test on Wednesday.
Mr. Musk's company has become successful in the launch business, and it is now one of the world's most valuable privately held companies. Its Falcon 9 rockets have become a dominant workhorse for sending satellites to orbit. It routinely transports cargo to the International Space Station, and has lifted NASA astronauts there twice in 2020, with more trips planned this year.
However, many are skeptical about Mr. Musk's assertion that the company is just a few years from sending a Starship to Mars, saying he has repeatedly set timelines for SpaceX that proved far too optimistic in how quickly they have come to pass.
In 2019, when he provided an update on the development of Starship, he said a high-altitude test would occur within months and that orbital flights could occur early in 2020.
Instead, several catastrophic failures happened because of faulty welding. When the propellant tanks stopped rupturing, two of the prototypes made short successful flights last year. Those earlier Starship prototypes resembled spray paint cans with their labels removed, rising nearly 500 feet using a single rocket engine before setting back down at the Texas test site.
In a video released on Tuesday night, Mr. Musk said Starship would be ready to launch people to orbit and beyond by 2023. He made the remarks in a video released by Yusaku Maezawa, a Japanese entrepreneur who is helping to financially underwrite the development of Starship. Mr. Maezawa intends to fly on an approximately weeklong trip around the moon and back to Earth.
In the Tuesday video, Mr. Maezawa announced that he wanted to bring eight passengers on the lunar voyage, and invited applications from people wishing to go. On Wednesday, he said more than 100,000 people have already expressed interest.
Sync your calendar with the solar system
Never miss an eclipse, a meteor shower, a rocket launch or any other astronomical and space event that's out of this world.
Exploring the Solar System
A guide to the spacecraft beyond Earth's orbit.
Source: Read Full Article