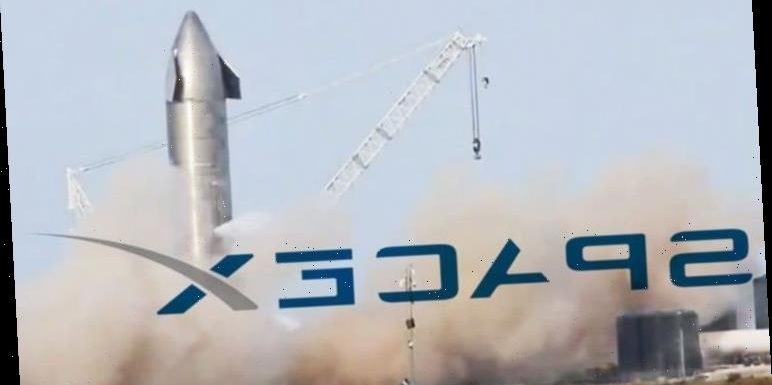 SpaceX conduct static fire engine test on Starship SN9
Dramatic video has shown Elon Musk's pioneering SpaceX test firing its latest iteration of Starship for the first time. Wednesday, January 6, witnessed the SpaceX Starship Serial No. 9 (SN9) test vehicle's three engines briefly let rip, with the cutting-edge Raptor engines ignited for just one second at 5.07pm ET local time (10pm GMT).
This crucial static-fire test occurred at the space company's base near Boca Chica, South Texas.
The latest SpaceX static fires involved igniting the SN9 prototype's Raptor rocket engines, while the model vehicle was securely tethered to the ground.
Following the success of Wednesday's test, expectation is now rising that the next step in SN9's development will soon involve a launch proper.
SpaceX is now thought to be readying Starship SN9 for a test flight closely resembling one made by its predecessor in December.
We will use your email address only for sending you newsletters. Please see our Privacy Notice for details of your data protection rights.
Starship SN8's December 9 test launch was powered by three of SpaceX's next-gen Raptor engines.
This saw the Starship program perform a historic high-altitude hop for the first time ever.
SN8 soared into the sky to approximate altitudes of 7.8 miles (12.5km).
However, despite the unequivocal success of the test, SN8 did not land according to plan and exploded in a fireball.
DON'T MISS
Asteroid news: Early solar system resembled arcade game 'Asteroids'
Dinosaurs could still be thriving today had asteroid not hit – study
Asteroid Bennu could be HOLLOW and spinning itself to death
Fortunately, the SpaceX prototype still exceeded expectations in almost every other metric.
This led SpaceX CEO Elon Musk to declare the flight a big success.
SN8 was actually predated by a trio of single-engine prototypes, but these tests were significantly less dramatic, each achieving a maximum altitude of a mere 500ft (150m).
Attempts have been made to learn from SN8's now-infamous burn issue.
This was widely-blamed on the CH4 Header Tank losing pressure, and steps have been taken to mitigate the incident from happening again in Starship SN9.
Mr Musk recently wrote on Twitter: "SN9 will press CH4 header tank with helium.
"Long-term solution is under debate. Not clear what is lightest/simplest."
Expectations for the success of the approaching first full SN9 launch should probably be tempered, as this will involve only the second-ever flight of a full-stack SpaceX Starship.
Such test flights are notorious for failing far ahead of any attempt to achieve a perfect landing.
But the good news is much will have been learned from SN8's doomed test flight.
There is, as a result, a far clearer understanding of what to expect during the impending SpaceX Starship SN9 flight.
Source: Read Full Article