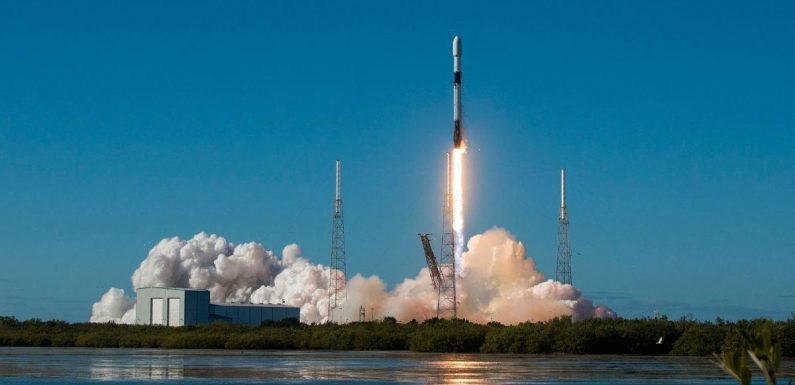 SpaceX launches first Falcon 9 rocket of 2023
We use your sign-up to provide content in ways you've consented to and to improve our understanding of you. This may include adverts from us and 3rd parties based on our understanding. You can unsubscribe at any time. More info
SpaceX has wasted no time getting in its first launch of the new year — sending up a Falcon 9 rocket into low-Earth orbit carrying a payload of 114 satellites. The mission, dubbed Transporter-6, blasted off into the clear skies over the Cape Canaveral Space Force Station in Florida at 9.56am ET (2:56pm GMT) yesterday. The rocket's substantial payload included various communications and Earth observation satellites — including 10 new additions to the Starlink internet constellation — and even three "space tugs", or orbital transfer vehicles, designed to help other satellites manoeuvre.
A SpaceX spokesperson tweeted: "Falcon 9 launches SpaceX's sixth dedicated smallsat rideshare mission — completing our 200th successful launch!"
They added: "Falcon 9 carried 114 spacecraft to orbit that were set to deploy across 82 deployments."
These payloads, they noted, included "CubeSats, microsats, picosats, and orbital transfer vehicles carrying spacecraft to be deployed at a later time."
The satellites being ferried up into orbit by the "rideshare" mission belong to operators from a whopping 23 different countries.
Among the satellites launched with Transporter-6 were 36 "SuperDove" CubeSats built by Earth-imaging firm Planet Labs, which is looking ultimately to image the entirety of the Earth daily to monitor changes and pick out informative trends.
The largest satellite going up yesterday was a 400-lbs craft constructed by South Africa's Dragonfly Aerospace on behalf of the Silicon Valley startup EOS Data Analytics.
This craft — dubbed "EOS SAT-1" — will ultimately form part of the world's first agriculture focussed satellite constellation.
Meanwhile, the US Space Force also used Transporter-6 to send up a prototype cloud-imaging satellite, while the US Defense Advanced Research Projects Agency deployed a four-strong constellation of "Blackjack" surveillance satellites.
The Transporter-6 mission is the first of around 100 launches that SpaceX is hoping to achieve this year — as it looks to smash its previous record from last year of 61 lift-offs.
On Twitter, SpaceX noted that: "Falcon 9 now holds the world record for most launches of a single vehicle type in a single year."
Last year, they added, "on average, SpaceX launched every 6 days from one of our three sites, with 92 percent of missions completed with flight-proven first stage rocket boosters."
In fact, the first stage booster used in yesterday's Transporter-6 mission has already been used on 14 different missions — having helped launch 10 batches of Starlink satellites, three other commercial missions and the GPS III-3 satellite for the US Space Force.
Yesterday, the 230-foot-tall first stage booster touched down vertically at Cape Canaveral's Landing Zone 1 around eight-and-one-half-minutes after lift-off.
Alongside planned cargo missions, 2023 is set to be a big year for SpaceX on the crewed front too — with launches scheduled on behalf of organisations including NASA, Axiom Space and Polaris Dawn, the latter of which is set to undertake the first civilian spacewalk.
While a launch date has yet to be announced, this year is also expected to see the much-delayed first orbital test of SpaceX's super heavy-lift launch vehicle, Starship.
The vehicle comprises two stages — the "Super Heavy" first-stage booster rocket and the spacecraft (confusingly also referred to as Starship) which can carry both crew and cargo.
Spacecraft will be not only the most powerful launch vehicle ever built — with more than twice the thrust of the Saturn V rockets used by NASA in the Apollo programme — but will also be entirely reusable, having been designed to land vertically on special platforms.
DON'T MISS:
Covid variant to 'watch out for' in 2023 as US cases soar [INSIGHT]
China accused of cover-up as Beijing denies failure of 'Zero-Covid' [REPORT]
Scientist's explanation as to why Covid cases will peak this month [ANALYSIS]
During an orbital launch, the Super Heavy rocket will propel Starship up to an altitude of 40 miles before separating and making a controlled return back down to Earth.
In fact, alongside regular crewed and cargo launches and helping to build the Starlink satellite internet constellation, it has also been suggested that Starship could be used to enable suborbital point-to-point flights across the surface of the Earth.
A variant of Starship will also be used as the lunar lander vehicle for NASA's Artemis III and IV missions to the Moon.
While a number of short test flights of the second-stage Starship spacecraft have been undertaken already, the orbital test will be the first time that the whole system has been used together, and to reach orbital entry.
Assuming the orbital test of Starship proves to be successful, such will pave the way for the long-awaited "dearMoon" project, the first proper deep space tourism launch.
The launch — fully financed by the Japanese entrepreneur Yusaku Maezawa — will take the billionaire, and ten crew members on a six-day trip in Starship around the Moon and back again.
Writing in The Conversation, space scientist Dr Gareth Dorrian of the University of Birmingham and physicist Dr Ian Whittaker of Nottingham Trent University said: "This mission will mark a big change in the way we think about space.
"Previously, only astronauts picked using incredibly stringent criteria have been able to go into deep space. A full trip of several days poses extreme risks, both in terms of health and engineering.
"The success or failure of the dearMoon mission could affect whether deep space tourism becomes the next big thing, or it is relegated back to being a pipe dream."
Source: Read Full Article