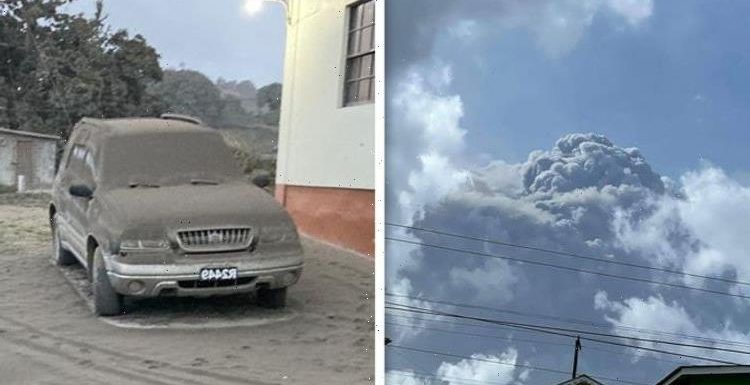 St Vincent volcano: La Soufriere eruption rains down ash
When you subscribe we will use the information you provide to send you these newsletters. Sometimes they'll include recommendations for other related newsletters or services we offer. Our Privacy Notice explains more about how we use your data, and your rights. You can unsubscribe at any time.
The St Vincent volcano reared its ugly head on the weekend after initially erupting on Friday for the first time in more than 40 years. Explosive activity at La Soufriere has continued in periodic intervals since, with a big event recorded early on Sunday morning (UTC). The volcano has been belching out ash and smoke into the skies, blanketing St Vincent and nearby islands in a thick layer of grey material.
Volcanologists monitoring the eruption have warned of more activity in the coming days to weeks.
Some 16,000 people have already been ordered to flee their homes with cruise ships ferrying evacuees to nearby islands.
Thankfully, there have been no reports of deaths or injuries.
St Vincent is the biggest island in Saint Vincent and the Grenadines and is home to some 130,000 people.
According to the team behind VolcanoDiscovery.com "explosive activity continues" and a volcanic ash plume was recorded reaching 40,000ft (12.2km) high today.
The ash has travelled as far as Barbados, where the daytime skies were chocked out and turned a dull grey.
A Bromefield resident told NationNews on Saturday: "This morning it wasn't that bad but as the day went on, it just kept getting darker.
"Imagine you at home during the morning and have to turn your lights on?
"My biggest concern is my granddaughter, I'm trying to protect her because she has asthma. I really hope this clears up soon."
La Soufriere: Smoke rises from Saint Vincent volcano
According to Simon Carn, a volcanologist at Michigan Technological University, explosive events have been going off at La Soufriere every 1.5 to two hours overnight.
The eruptions have been releasing sulphur dioxide (SO2) and ash, with the plumes detected by satellites.
At 5am UTC (6am BST) on Sunday, an eruption generated "significant lightning" and possibly led to an island-wide power outage.
The volcanologist tweeted: "Powerful explosions continuing at #LaSoufrière on April 11, occurring every ~3 hours since 5am UTC."
DON'T MISS…
UFO sighting: Moon-sized spaceship seen exiting the Sun – claim [REPORT]
Iceland volcano eruption: NASA satellite images show eruption [PICTURES]
NASA astronaut Ed Gibson recalls the day Skylab crashed into Australia [INTERVIEW]
The outage was confirmed by the emergency management organisation Nemo, which tweeted: "Massive power outage following another explosive event at La Soufriere volcano. Lightning, thunder and rumblings."
Experts have also warned about the damage the ash can cause to crops and buildings.
Professor Richard Robertson of the University of the West Indies Seismic Research Centre said: "And probably, the roofs are going to fail and you are going to have a lot of property damage… that is simply because of the ash.
"That is unfortunate but I suspect that as you go further south, it is going to be less of an impact, but certainly, the environment has been damaged badly by the heavy ash fall."
Unfortunately, Prime Minister Ralph Gonsalves fears it could take up to four months after the eruption ends before life returns to normal.
He said: "Agriculture will be badly affected, and we may have some loss of animals, and we will have to do repairs to houses.
"But if we have life and we have strength – we will build it back better, stronger, together."
La Soufriere's last major eruption went off in 1979.
Before that, on May 6, 1902, a powerful eruption killed some 1,680 people.
Source: Read Full Article